Roofer Jobs
If you've ever gone inside a building to escape torrential rains, dumping snow, high winds, or freezing cold, you must appreciate how wonderful a nice roof is. Roofs are something we take for granted, but we all need a roof over our heads. Every building has a roof and a roofer built every roof.
VIEW OUR FEATURED ROOFING EMPLOYER: Nations Roof Jobs
Roofers use a variety of materials and methods to waterproof and weatherproof roofs. They build new roofs and maintain and repair old roofs. They work high above the ground without shelter or shade. It is a roofer's job to keep the elements out of any building – skyscraper, school, home, office, or mall. It's a demanding construction job that is statistically one of the most dangerous.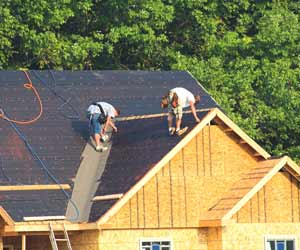 See Related: Carpenter Jobs on JobMonkey.
There are about 150,000 roofers in the United States and they all put their lives at risk every work day. The primary cause of injury or death amongst roofers is falling. Roofs often have steep pitches and when you fall it is hard to stop. Balance is critical when walking on pitched roofs or teetering on rafters and beams. Even an erratic swat at an angry wasp can send a roofer tumbling to his doom.
Roofers are also vulnerable to heat related illnesses. Roofers toil away in the hot summer sun without any way to cool down. It's a recipe for heat exhaustion or heat stroke. Consider the risk of falling, the unbearable heat, and the fact that roofers also work with different roofing chemicals that can catch fire…Imagine a physically drained roofer stuck on a roof ten stories above the ground when the roof catches on fire. That's as bad as it gets. It can be scary up there.
Despite the risks, roofers continue to build, fix, and repair roofs all over the world. They do take certain safety precautions – drinking extra water or tying in with ropes and harness like a high-rise window washer might wear. But it does not alleviate all the risks.
Roofers spend a typical day climbing ladders, kneeling on hot shingles, bending to grab water, lifting heavy equipment, and balancing on the edge of a roof. Roofers work in teams to apply vapor barriers, cut holes for fans and vents, and apply protective coverings like shingles or tiles. A good roof will keep the water out and the heat in. Hammers, knives, mops, fastening tools, sealants, blow torches, caulk guns, brushes, nail guns, and muscles get the job done.
Many roofing jobs are unionized. Unions run apprenticeship programs that last three years. They include both classroom sessions and paid on the job training under a master craftsman. Apprenticeships are the best way to get into the industry. Through apprenticeship you'll learn about protective coatings and coverings, how to read blue prints, new trends in green roofs, and much more. A master roofer will have a solid grasp of roof design, materials, construction, durability, methods, and tools.
One of the unsung perks of this job is that roofers work outside all day. Usually they work at one of the highest points in the area. The views are outstanding. It's like working in the mountains or flying a plane, roofers can see forever as they watch the world pass by far below.
As long as construction exists, roofers will have jobs. Job security is nice, even if the work is a bit risky. Pay varies from about $8 to $30 per hour, but the average is $16 per hour.
Roofing is a physically demanding, dangerous job. If you have excellent balance, enjoy nice views, and are ready to take on risk then look into a career as a roofer. But if you're afraid of heights please don't apply.
Quick Facts About Roofing Jobs
Job Title: Roofer
Description: Waterproof and weatherproof roofs using a variety of materials and techniques
Certifications/Education: No formal training required. Apprenticeship highly recommended
Necessary Skills: Balance, Not afraid of heights, Strong
Potential Employers: General Contractors, Roofing Companies
Pay: $8 to $35 per hour, average is $16 per hour
Helpful Roofing Employment Links
Search Roofer Jobs on JobMonkey
National Roofing Contractors Association
United Union of Roofers, Waterproofers, and Allied Workers