Rock Climbing Guide Jobs
Smith Rock. Eldorado Canyon. The Tetons. Gallatin Canyon. Yosemite. Joshua Tree. Red River Gorge. Squamish. The Bugaboos. Red Rocks. Zion. The Gunks. What do they all have in common? Outstanding rock climbing. Did you know you can make a living as a rock climbing guide?
You can't become a rock climbing guide straight off of the couch. You need to live the sport. Do you know about knots, belay devices, ropes, carabiners, harnesses, rock routes, pro, types of rock, or rescue techniques? Rock guides need to be comfortable climbing, leading routes, and being exposed to the elements. This is easy if you're a dedicated rock climber.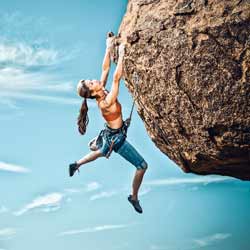 To work in the rock climbing world, start as a recreational enthusiast. Climb as much as possible – both in a gym and outdoors. The more you climb, the faster you will increase your endurance, strength, skill set, knowledge, and techniques. Hang out at the rock gym or local crag. Learn to size and place gear, identify rock quality, lead climbs, and know your rope systems. Find work in related fields or other guiding roles. Be a part of the outdoor community and network with like-minded folks. Practice safe climbing.
Safety is the number one priority. When you're dangling at an anchor hundreds of feet off the ground on a vertical rock wall in the middle of a multi-pitch climb it's important to be safe. As a rock climbing guide, it's your job to ensure your's and your client's safety first.
Guiding is a guest-centered job. Rock climbing guides don't always get to go out and push their limits. Guiding, instructing, and interacting are all parts of this gig. You also need to accurately assess your client's limits. You don't want to put a beginner climber on an advanced route. Instead you want your clients to climb at a level that is fun, but still pushes them.
Rock climbing guides thrive on climbing outdoors, but there are also resume-building jobs at rock climbing gyms all over the world. The rock gym is a great place to build skills and clientele, but most rock climbing guides aspire to work for summer camps, guiding companies, resorts, or outdoor education providers like NOLS or Outward Bounds. To get a climbing job, you need to be climbing at a high level, have exceptional guest service skills, and be passionate about climbing. Many rock climbing employers require certification too.
There are several well respected, certifying organizations including the Professional Climbing Guides Institute, the Professional Climbing Instructors Association, and the American Mountain Guide Association. If rock climbing is your stepping stone to the world of mountain guiding in alpine, ice, snow, and rock, then it's best to pursue certification from the internationally recognized American Mountain Guide Association.
In the climbing industry, a typical day consists of meeting clients, prepping gear, and making a plan. Throughout the day, you have to choose routes, belay clients, set up rappels, lead climbs, instruct clients in proper technique, give gear recommendations, tie and check knots, manage ropes, navigate terrain, and, of course, ensure client safety. It's physically and mentally challenging, but it's always fun.
Rock climbing guides make between $60 and $350 per day or $30,000 to $50,000 per year. That doesn't include tips. Pay depends on certification, location, company, clientele, and skill level.
If you want to become a rock climbing guide, go outside and go climbing. Sharing your passion for climbing is a rewarding career path where every day will be an exciting adventure.
Quick Rock Climbing Guide Job Facts
Job Title: Rock Climbing Guide or Instructor
Office: Climbing Gym or Rock Wall
Description: Guide and instruct clients in the world of rock climbing
Certifications/Education: AMGA or other certification
Necessary Skills: Strong rock climbing skills, guest service focus, guiding experience
Potential Employers: Summer camps, guiding companies, resorts, or outdoor education providers
Pay: $60 and $350 per day or $30,000 to $50,000 per year
Helpful Rock Climbing Guide Employment Links: