Mountain Guide Employment
Do you daydream about climbing rock faces? Summiting remote peaks? Making endless powder turns? Or scampering up frozen waterfalls? Stop daydreaming about it and go find a job as a mountain guide.
Mountain guides are trained mountaineering experts who specialize in ice climbing, rock climbing, alpine climbing, and backcountry skiing. It's the ultimate outdoor job that pays you to go and play in the mountains.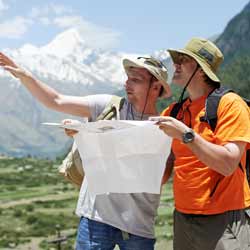 If you'd like to get paid to ski powder in Washington, set up expeditions to summit remote Alaskan peaks, climb towering ice in Wyoming, or scale rock walls in Nevada, then you need to pursue a mountain guide job.
Mountain guides spend a lifetime building their mountain resume. They climb, ski, hike, and play in the mountains at all times. In the process, they learn the skills to lead multi-pitch rock climbs, ski remote couloirs, and summit peaks at high altitude. Developing valuable technical skills, mountain sense, and client care allows them to safely guide and teach clients in remote mountain settings.
In the mountains, you are often reliant only on yourself and the gear you have with you. The choices you make can mean the difference between life and death. Plus, you are responsible for your client's safety. To be a mountain guide, you need to hone your decision making skills and assess your risk management. You also must reach your peak physical fitness and be mentally sharp in all environments.
Mountain guides are intimately knowledgeable about knots, rocks, snow, weather, navigation, avalanches, rescues, first aid, gear, routes, conditions, maps, and so much more. They need to be skilled in emergency evacuations, helicopter protocols, technical rope systems, leave no trace ethics, risk management, decision making, expedition planning, and plenty of other mountain focused topics. All of these things need to be second nature.
The life of a mountain guide is learned by spending time in the mountains. It requires years of training. Many countries have mountain guide associations that offer focused curriculum, courses, exams, and experience for aspiring mountain guides.
In the US that organization is the American Mountain Guide Association (AMGA). The AMGA has three focuses – rock, alpine, ski. Each route has a series of exams and courses. Once a person has completed all three tracks, they will become an internationally certified mountain guide by the International Federation of Mountain Guides Associations (IFMGA). Many people call themselves mountain guides even though they are not certified.
It takes dedication and commitment to become a mountain guide. If focused on certifications full time, it can be a 3 to 7 year process. During this mountain education, guides can find work and build experience with permitted guiding operations or be self-employed. While working, they can learn from mentors, work with clients, and gain experience guiding in the mountains.
Due to the demanding nature of mountain guiding, most mountain guides work about 150 days per year. Those days can include long 10 to 12 hour days, multi-week expeditions, or heli-skiing adventures. Mountain guides must also travel to cool destinations like the Alps, Patagonia, or Alaska to meet clients.
Most mountain guides will make $150 to $200 per day plus tips. Some guides make up to $600 per day. The average mountain guide will make around $40,000 per year. Pay depends on clientele, geographic location, certifications, and employer.
People from all walks of life want to get outdoors to experience an adrenaline pumping adventure. This demand for rock climbing, powder skiing, and alpine climbing has boosted the need for professional mountain guides. Now is a great time to begin your pursuit of a mountain guide career. Are you ready to work in the mountains?
Quick Facts About Mountain Guide Employment
Job Title: Mountain Guide
Office: The mountains
Description: Guide clients on ski, rock, alpine, and ice routes
Certifications/Education: UIAGM/IFMGA Certification
Necessary Skills: Mountain sense, Technical skills, Client care
Potential Employers: Self-employed, Guiding Outfitters
Pay: $150 to $200 per day plus tips, $40,000 per year
Helpful Mountain Guide Employment Links: