Roadie Jobs
What was the first concert you ever saw? Did you dream of being part of the show? Not many people land a performing role in the world of showbiz, but there are plenty of folks who live the dream by working behind the scenes. They're called roadies.
When it comes to live shows, roadies do everything except actually perform. The term roadie stems from the road crew that accompanies a band or show on the road. It's kind of a catch-all term that includes all the jobs required to set up a show – sound engineers, lighting technicians, pyrotechnic experts, sound designers, security, etc. Roadies do it all and live shows can't function without them.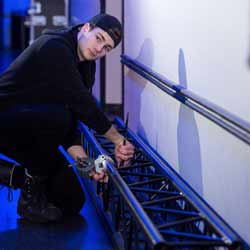 It takes a lot to put on a live show. The stereotypical roadie is a jack-of-all-trades. Their job is physically demanding and involves lifting and moving audio/video and lighting equipment from tour buses to stages. Other roadies work as band security, set up pyrotechnic shows, adjust microphones, tune guitars, run spotlights, act as the middleman between the artist and the venue, build sets, monitor wiring, or assist performers. Some roadies have even filled in for real life rock and roll stars or even become members of the band! The goal of all roadies is to work as a team to put on a successful show.
The life of a roadie can be a blur. Traveling with a band and working late nights at events is a demanding gig. For many it's a life long fantasy, but it's far from your typical 9 to 5 job. Roadies are the first to show up and the last to leave the venue, which makes for odd hours. Roadies sleep on the road and live out of a tour bus. They are constantly on the go, moving from venue to venue and even circling the globe. A nightclub in Pittsburgh, an outdoor music festival in Boston, and a packed arena in London might be a normal week for a roadie. It's a blast.
Experience is key because being a roadie is one of those jobs where you can only learn by doing. Most roadies get their start by volunteering with local bands, church choirs, or amateur theater groups. These unpaid gigs will help you to gain experience behind the scenes of a live show. Technical knowledge in a skill set like lighting or sound engineering will make you more employable. Of course, a musical background and a love for live shows is a huge bonus too.
Finding a job listing for "roadie" is nearly impossible. It's a job that many people want. Instead job listings may specify stage crew, road crew, technical support crew, or even show ambassador. Your network is a great place to find gigs, but the Internet is also a fantastic resource. You can often find roadie jobs on websites for bands, theater shows, production companies, or other touring shows. It can also help to join the International Alliance of Theatrical Stage Employees.
The roadie lifestyle is unique. Where else can you see what it's really like to be a rockstar? While many roadies earn their spots through unpaid work, established roadies can make as much as $200 per day. Some career roadies report making $50,000 to $85,000 per year. Pay depends on the show, how long the tour lasts, and your specific skill set.
No show is complete without a passionate, hard working, music-loving roadie. If you love live shows, are a hard worker, and want to go on tour, find a roadie job.
Quick Facts About Roadie Jobs
Job Title: Roadie aka Stage Hand aka Stage Crew aka Road Crew
Office: Performance Venues, Tour Buses, Behind the Scenes
Description: Setup and takedown live shows
Certifications/Education: No formal training required
Necessary Skills: Live show experience, Specific skill sets
Potential Employers: Bands, Theater Groups, Production Companies
Pay: Unpaid to $200 per day or $50,000 to $85,000 per year
Helpful Roadie Employment Links: