Work as as Puppeteer
Have you ever seen Sesame Street? Star Wars? Team America: World Police? Forgetting Sarah Marshall? The Muppets? If you have, you've seen puppets in action. All it takes is pulling the right strings and puppets like Big Bird, Yoda, Kim Jong Il, Dracula, or Scooter come alive.
Puppets can do just about anything – dance, train Jedi, plot for world domination, sing songs, or make us laugh. Behind the scenes, it is a puppeteer who truly makes a puppet come to life. Puppeteers have a creative, fun job.
If you've never seen a puppet show, it is a performing arts experience. In fact, it's a form of entertainment that dates back to the ancient Egyptians and Chinese. Puppeteers are storytellers. They are incredibly talented, but they don't have to worry about being recognized because they are always out of sight. Behind the scenes they manipulate and speak for their puppets. They tell stories to create drama, tragedy, humor, compassion, action, or romance.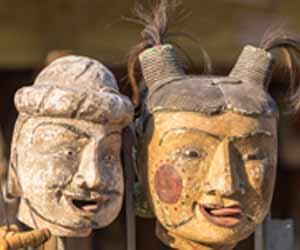 Puppeteers lives revolve around puppets. First they design the puppets from ideas they have. They may do this on paper, in their head, or on the computer. Next they have to build the puppets. They use materials like wood, paper mache, foam, wires, strings, metal, rubber, cloth, and plastic. This takes the use of tools like saws and sewing machines. Creating a puppet takes ingenuity, an eye for detail, and a bit of imagination. Kermit the Frog is a perfect example.
Creating a puppet is only half the job. Puppeteers also have to develop story ideas and write scripts, which can appeal to any and all audiences. Once this is done, they have to set up a puppet show where they will not only manipulate the puppet's actions, but will also be the puppet's voice, maybe for more than one character at a time. It's a multi-tasking art form and when done well is super impressive.
If you want to get involved with puppets, it's a good idea to buy a puppet and play with it as a hobby. You could also volunteer at hospitals, take puppet and theater courses, or do puppet shows at your community theater. Once you become proficient with controlling a puppet and speaking for your puppet, you may look for part time work at fundraisers, hotels, parties, or amusement parks like Busch Gardens. As a part time puppeteer you may need to find a second job or supplement your income by being a puppet instructor. Annual earnings for puppeteers depend on the number of days worked.
If you know that puppeteering is the life for you, a degree in theater is helpful. Full time puppeteers often work with traveling puppet shows that perform at small and large theaters. But the big money in puppets is in film and television, and puppeteers can make a nice sum if they are hired for a big-budget project. In order to be a TV or film puppeteer you also must be a member of a union like the Screen Actor's Guild or the American Federation of Television and Radio Artists.
Puppeteering is awesome because you have the opportunity to express yourself and follow your imagination. It's a hands on job and it is truly amazing how many roles a puppet, and a puppeteer can play. Puppeteers have lots of freedom to explore the realms of what is possible. But the best part is that as a puppeteer you're the one pulling the strings.
Quick Facts About Puppeteering
Job Title: Puppeteer
Office: Behind the curtains of a stage
Description: Design, create, and manipulate puppets
Certifications/Education: No formal training required. Degree in Theater Arts recommended.
Necessary Skills: Imagination, Hand coordination
Potential Employers: Schools, Amusement Parks, Theater, Television, Film
Pay: Depends on project and number of days worked
Helpful Puppeteer Employment Links:
Search Puppeteering Jobs on JobMonkey
The Puppet Network
Puppeteers of America
National Puppetry Festival
World Association of Puppeteers
UNIMA-USA
Center for Puppetry Arts
Puppet Wiki
Screen Actor's Guild
American Federation of Television and Radio Artists