Auditioning For Reality TV
In this section we discuss the details behind auditioning for reality TV. Each audition process is likely to be slightly different from show to show. Even if you are auditioning for the same type of program, the interview questions, formats and the process of auditioning will likely be different. Therefore the information in this section is meant to be used as a tool when considering auditioning for reality TV.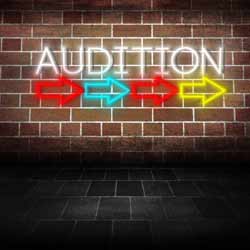 It shouldn't be considered the only information, or way to go about auditioning for reality TV.
In Person Auditions
Auditioning in-person isn't something that every one can do when auditioning for reality TV. However, it is a great way to experience first hand what an audition is like and many people believe it increases your chances of being selected. Auditioning for reality TV in person does give you an excellent chance to portray your skills and personality for the judges or casting crew and on top of that, you know the outcome of your audition much quicker than when you apply online or send in a video auditions.
In person auditions are key for talent-based competitions. Many times, a person can be selected through the first round of castings based on a video but for talent competitions you will need to perform live in order to be selected. Talent competitions are perhaps one large category where auditioning in person is largely beneficial. In fact, many competitions require it. For example, American Idol, So You Think You Can Dance and many others, require that in order to move onto in the competition you audition in person for the judges. Most reality TV shows will host a live casting where you get a chance to speak face to face with the people making the decisions. Some castings (like those that are talent based) will ask you to perform, others will ask you questions about your voting preferences, economic background, issues surrounding politically charged points of view, relationships and education.
The number of questions and types of questions that will be asked will vary extraordinarily from show to show and the best way to prepare for this is to be familiar with the show in which you are auditioning. For example, The Amazing Race will likely ask you about your travel experience. Since competing groups are formatted in groups of two or more people, it is likely you will be asked about your relationship with the person you are auditioning with. How long you have known each other, what your friendship is like, if you're in a romantic relationship, how long you have been married or if you plan on getting married in the future are possible questions you could be asked during an in-person audition for a reality TV show.
Auditioning in person is required for many programs – such as talent-based shows. But, it is also required during certain portions of other reality TV show auditions as well. In fact, at some point during any audition for a reality TV show you will likely be asked to meet with the casting director at some point. Each person before they are finally selected for a show will need to be interviewed in person. The likelihood of getting cast without meeting the judges, casting crew, directors or producers at some point is very low.