Auditioning for America's Next Top Model
This modeling talent competition, was founded by international supermodel and TV host Tyra Banks, and features a group of would-be models all vying for the title of America's Next Top Model, which gives them a modeling contract among other prizes. The audition process for America's Next Top Model involves various rules and regulations after a recent casting call resulted in a riot.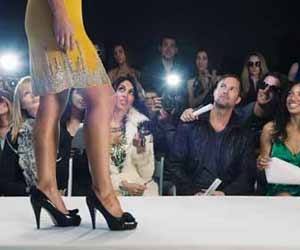 No one is allowed to queue overnight and other queuing etiquette is now to be followed when lining up for the open castings.
When you enter one of the 20 or more audition venues, somewhere like the Plaza Hotel, you will find that the hopefuls are sent into a separate room while friends and family member have to wait in the lobby. Of the thousand or so entrants that show up at each venue, only a few are selected to go through to the next round of auditions. These first auditions consist of nothing more than standing in a line, stating your name, age, height, weight and where you are from. The producers then call a few numbers for those that have made it to the call backs. Those that make it through have to sign waivers that prevent any communication with the press or photographs being taken for the privacy of the show. In some areas auditions are slightly different with the applicants getting to sit down with the panel individually.
Visit CWTV for information, which can be hard to find!
If you want to enter you should take the time to read all of the requirements first, because things change every year, for example, Cycle 13 was the first time that girls that were only under 5 foot 7 were allowed to audition, and the age limit is 18 to 27. At the open casting you are videotaped for a maximum period of 2 minutes and you must also remember to bring in your application form. You also need to bring 3 photographs of yourself, one being a headshot (close-up of your face), one full-length photo, and one photo in your swimsuit. You must bring a photocopy of your driver's license and U.S. passport, or if you don't have these, a photocopy of social security card and birth certificate.
An alternative method for applying is to send in a home video of yourself along with the application forms, photographs and photocopied documents.
This video should not be longer than 3 minutes and must show off your modeling talents including your best runway walk, as well as a bit about yourself and why you are the ultimate model. There should be no music in your video. You can send the video (VHS only) to America's Next Top Model (insert area code of closest location), 2801 Ocean Park Boulevard, Santa Monica, California 90405.
Once you have made it to the call backs you will have a face to face interview with the producers or the show's casting director and eventually the top 14 girls will be selected for the TV cast. You should be confident, camera ready, have good posture and some basic modeling technique, as well as being fit and healthy. You should offer a warm and fun personality, and exude character. America's Next Top Model also looks for girls from diverse backgrounds.