Jobs in Anchorage, Alaska
While Juneau is Alaska's capital, Anchorage is the state's largest city. In fact, more than 40 percent of all Alaskans live in Anchorage, attracted by its modern infrastructure, untamed charm, and famously low tax rate. Anchorage is located on Alaska's southern coastline, due north of the Kenai Peninsula and south of Mount Denali (formerly know as Mt. McKinley) and Denali.
Even a big Alaskan city like Anchorage offers a wealth of outdoor experiences. In summer travelers can fish for famous Alaskan wild salmon or trout in the city's waterways, or discover the rivers with a ride in a kayak or canoe.
The trails of Chugach State Park and Williwaw Valley are perfect for hiking and spotting moose, ptarmigan, and other animal residents. But not every outdoor activity in Anchorage will see you working up a sweat. There are also opportunities for bird watching and berry picking, and even gold panning as the pioneers did so many years ago.
The colder weather of winter is no excuse for getting lazy in Anchorage. There's skiing on the slopes of Alpenglow, ice skating in Town Square Park, and the breathtaking Northern Lights in the sky each night. The fishing doesn't stop either once the chill sets in. The ice on the region's lakes is usually thick enough by mid-November to support the weight of your average angler. The same fish you'd catch in winter are swimming just underneath the surface, including Chinook salmon, arctic char, and lake trout.
While its wide open spaces are a big visitor draw card, they're just one half of the Anchorage story. Away from the wilderness, Anchorage is a bustling cosmopolitan city, home to some of Alaska's best restaurants, busy shopping strips, and cultural events. Anchorage's thriving seafood industry sees its eateries serving up sumptuous Kachemak Bay oysters, moist Alaskan king crabs, and some of the freshest halibut and wild salmon around.
Anchorage is home to many major department stores, but the most unique shopping is found in the city's fashion boutiques, gift stores, and art galleries.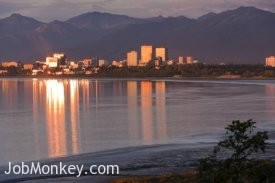 Native masks, carved jade and ivory figurines and jewelry, and musk ox wool garments make excellent souvenirs and gifts for friends back home. And when you're shopping up a storm you can afford to spend a little more as all your purchases are free of sales tax.
From opera and dance to modern music and improvisational theater, you can see it all at Anchorage. The city's Alaska Center for the Performing Arts, or The PAC as the locals call it, hosts a wide range of events throughout the year. It's home to several local companies including the Anchorage Symphony Orchestra, the Alaska Dance Theater, and the Anchorage Opera, although traveling performers also grace its stages. Locals can also enjoy music over a casual lunch in the warmer months as part of the Summer in the City concert series.
Many people mistakenly believe Anchorage is a cold, gloomy place, but it actually enjoys mild temperatures all year round. The Chugach Mountains shield it from harsh weather conditions, and the Japanese currents of the Pacific Ocean also help to warm things up a little. Anchorage's climate from spring to fall is actually comparable to spring weather in San Francisco. The mercury does dip in winter, but that just ensures the locals and tourists can enjoy the ski slopes. Travelers need only pack a warm jacket to know they'll feel comfortable during their stay in Anchorage.
As the largest city in Alaska, Anchorage offers one of the state's most diverse selections of accommodation. Couples can enjoy cozy bed and breakfasts or luxury hotels, while families can stay in more budget friendly local inns and boutiques. For seasonal workers or anyone taking an extended sabbatical, Anchorage also has cheap hostels, camping grounds, and long-term vacation rentals.
Anchorage is conveniently located to make travel easy. Tourists can pick and choose their preferred mode of transport, including the Alaska Railroad, an Alaska Airlines flight, or the major highways. And the local bus system, rail network, and fleet of taxis make getting around and discovering all Anchorage has to offer just as easy once you arrive.