Homer, Alaska Employment and City Information
Homer is a small town with a big sense of humor located on the southwest side of Alaska's Kenai Peninsula. Bumper stickers around the township call it "a quaint little drinking village with a fishing problem," a slogan which cutely sums up Homer and its offbeat personality.
It might share its name with a cartoon character, but Homer was actually named after Homer Pennock, a mine company promoter who first settled there in 1896. He wasn't a hero like many men honored in this way.
In fact, his mining venture failed and his crew left Homer abandoned in 1902. However, somehow his name has stuck. Thankfully salmon cannery workers settled in Homer between 1910 and 1920 and breathed new life into the township.
Homer is located on the shore of Kachemak Bay, a waterway which acts as the the small community's back bone. The town is known by many as the world's halibut fishing capital, although anglers will also find salmon in the bay's waters. Commercial and sports fishing industries help to keep the town afloat, and provide short-term employment opportunities for Homer's visitors. You needn't take one of these positions though to earn some extra coin; catching halibut can be quite lucrative in these parts. Thousands of dollars are given away each year in the Homer Halibut Jackpot Derby. You can get your $10 derby ticket from local charter offices, stores, and bed and breakfasts.
The city's most striking natural landmark is Homer Spit, a 4.5 mile stretch of land which juts out into Kachemak Bay. The locals have made good use of this gravel bar, transforming it into a harbor which holds up to 1,500 boats during the summer. The Spit is also home to several hotels and restaurants and a unique manmade fishing hole called The Nick Dudiak Fishing Lagoon. The artificial fishing spot is stocked with salmon fry from a local hatchery every spring to ensure its waters never become depleted. That's a good thing too, because the local harbor seals that enter the lagoon give fishermen some serious competition! The many tourist facilities make Homer Spit a hive of activity, particularly during the peak tourist season.
Homer is meant to be explored, whether it's on foot through the trails of Katmai National Park, from a kayak traveling through Kachemak Bay, or from the air as you fly over its glaciers. These natural playgrounds are home to many native animals including brown bears, sea otters, and bald eagles, so remember to keep your eyes peeled. If you want to see more animals at play then pay a visit to the Alaska Maritime National Wildlife Refuge, the largest sanctuary of its kind in the state.
After a long day of activity, Homer's locals and tourists enjoy winding down with some good food and a few drinks. Considering its small stature it's impressive that Homer has a winery, brewery, and meadery, but it's also indicative of Homer's love of alcohol. These local drinks are best paired with the fresh seafood and crusty sourdough bread Homer is famous for.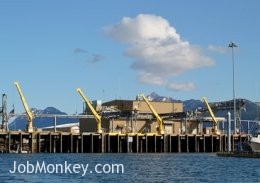 You'll find these regional specialties at a variety of eateries, from casual al fresco cafes to acclaimed fine dining restaurants.
It seems the people of Homer want their visitors to stick around. While there are a handful of upmarket hotels and resorts, there are many more affordable bed and breakfasts and vacation rental apartments and condos. Travelers who enjoy communing with nature are also well catered for with several camping grounds and RV parks in the heart of the city and on Homer Spit.
Travelers can reach Homer by road, sea, or air. It's a port on the watery Alaskan Marine Highway, the state's largest ferry system, and the southernmost stop on the scenic Sterling Highway. You can rent a car and take the journey through the mountains and spruce forests at your own pace, or take a shuttle bus from Anchorage. Flights from Kenai and Anchorage also regularly travel to Homer Airport.