Alaska Offshore Processing Jobs – Factory Longliners
Factory longliners are critical to Alaska's fishing industry, so much so that not too long ago many crabbing and trawling vessels were converted into factory longliners. Due to the influx of number of vessels, there are many opportunities for first-timers interested in processing, but most companies still hire only experienced crew as longline deckhands. Most longliners fish for 10 months of the year, usually only taking time off from mid-October through December. The longlining calendar is ideal for full-time employees wanting to work most of the year and take a couple months off around the holidays. If you want to work on a longliner, consider contacting the companies in Seattle during October and November when the boats are in dock. People hired during this time usually start around January 1 when the Pacific cod fishery begins in Alaska, but may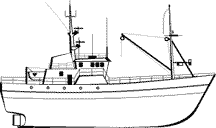 start earlier to help service the boat.
Factory longliners usually have twenty to thirty crew members and run 90-200 feet in length. Longlining requires more deckhands per vessel than trawling, because more people are needed to run the gear. This makes it relatively easy for a hard-working processing worker to move up to a deckhand position. The best deckhands are proficient with longline knots and line-splicing, are fast learners, and possess excellent hand-eye coordination.
The primary fishery for factory longliners is Pacific cod, and there are three different seasons, each with its own quota: January 1-April 30 (90 percent of harvest), May 1-August 31 (10 percent of harvest), and September 1-sometime in October (whatever is left of total quota).
In addition to Pacific cod, most vessels also harvest black cod, turbot, and other bottomfish. Factory longlining processors generally make between $3,000 and $7,000 per month working fairly long hours. Motivated processors can work their way up to a full-share deckhand position in one to two years at which time their earnings may climb to around $9,000 per month. Crew schedules vary, with most longliners using an 18-hour on, six-hour off system.
The main disadvantage of a factory longliner compared to a factory trawler is the size of the boat. These smaller boats make for a rougher ride in bad weather, and the crew quarters are often cramped.