Traveling to Alaska Fishing Towns
Alaska is a huge, sparsely populated state with an equally sparse transportation network. Distances between areas within the state are truly staggering, and intrastate transportation costs can be more expensive than the initial cost of getting to Alaska.
For this reason, everyone going to Alaska should have a specific destination in mind.
Don't wait until your ferry arrives in Ketchikan to realize that you really want to work in the Aleutian Islands.
Likewise, anyone planning to work for a month and then backpack in the Tongass National Forest would be foolish to work in Kodiak.
For your convenience, we have divided the principal fishing areas of Alaska into five regions. In this section, each region's climate, larger fishing towns, and major attractions are described. We also have added a categorized ratings system to each of our town profiles.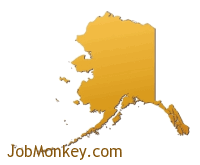 This system helps you evaluate each town based on ten unique categories, each graded on a scale of one to five. Prior to making a decision as to where to work, consider these ratings. Our ratings are, in large part, based on town-by-town comparisons.
Included are transportation symbols indicating how towns can be reached. Keep in mind that air travel, while fast, is normally the most expensive method. Sometimes it is worth taking extra time to save money.
We have also included some information regarding the nightlife in each town. The bars and taverns listed in this site are the local "hot spots." While we do not recommend or promote spending time in such establishments, we feel that listing them is important. A town's bars and taverns can be good places to find out what is going on locally with regard to deckhand or processing plant job openings. Even if the bar scene is not your thing, it might be worth your while to stop in some afternoon and see if they have an information board for deckhand openings, budget accommodations, or any other valuable information. One last note regarding bar attendance: we have found that this is the number one way workers blow their paychecks.
Drink tabs can be very expensive. If you are going to Alaska to save money, keep your bar attendance to a minimum.
Here's a quick sidenote! JobMonkey's Alaska Summer Jobs section includes pages about Alaska National Parks that you may find interesting as a supplement to the pages that follow.
Our restaurant, or "eats" listings identify the best places to get good, reasonably priced food. Occasionally, we have noted pricier restaurants, too. We list these more expensive restaurants only if truly superb, and worth the splurge. For further details regarding travel and leisure aspects of each town, we recommend purchasing a good travel book on Alaska.
Finally, we have tried to locate recommended nightlife spots and restaurants, as well as processing facilities on each city map. Also found on these maps are the best places to buy processing and deckhand gear, points of interest, campgrounds and inexpensive lodging, aquaculture stations and hatcheries, and small boat harbors. If it's on the map, it's worth checking into!