Alaska Travel – By Ferry, Plane, Car, Bus
People traveling to Alaska to look for work and those individuals planning to work aboard small, privately owned fishing boats almost always have to make their own way to Alaska. However, there are a wide range of travel options to consider.
Travel to Alaska By Sea
If you plan to work on a fishing boat, consider hitching a boat ride from Seattle to Alaska. This can be a great way to save on travel expenses, see some amazing scenery, and get to know fellow crew members. You'll also get your sea legs (and stomach!). Sometimes you can get a ride on a boat even if you won't be working aboard. Some vessels will offer transportation to Alaska in exchange for helping out en route.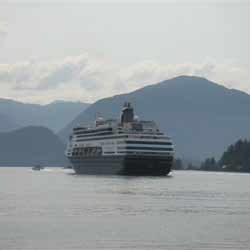 Travel to Alaska By Plane
Air travel to and from Alaska can be somewhat expensive. There are a number of scheduled daily flights from Seattle to most Alaskan cities listed in this section of JobMonkey. If you are planning to go to one of the southwest Alaska towns (Region 2) and are on a tight budget, we recommend flying into Anchorage and taking a bus to your destination.
Anyone flying should make reservations well in advance to assure the lowest possible fare. We also recommend purchasing a round-trip ticket to guarantee transportation home if things don't work out. If you decide to return home using an alternate mode of transportation, the return portion of your airline ticket usually can be sold without much trouble.
For a list of airlines flying into and out of Anchorage click here.
Traveling by air within the state of Alaska can be expensive. Make sure to ask about any special fares. Some airlines run special unlisted fares for fisheries workers. Also, people hired to work in remote locations that have roads leading to them can save money by taking a bus from Anchorage.
Driving to Alaska
While it was once known as a great feat to challenge the Alaska Highway (also known as the Alcan) and finish with the car in one piece, the highway to Alaska is now much like any other 1,500-mile stretch of road. The Alcan still has occasional stretches of "highway quality" gravel, and because of annual permafrost damage it is continually being improved in stretches. The drive is very scenic and travelers will pass by mountains, rivers, and hundreds of lakes.
There are some precautions to take prior to taking on the Alaska Highway. Make certain your automobile is in fine mechanical shape and has a good set of tires. Also, bring some spare parts including at least one spare tire, extra headlights, an extra fan belt, jumper cables, a gas can, and a complete set of tools. Try to never go below one-third of a tank of fuel, and try not to put yourself in a situation where you must rely on the next gas station, because sometimes gas stations close for a few days when they run out of gas.
To avoid backtracking, we recommend taking the Cassiar Highway up and returning on the Alaska Highway. The Cassiar is significantly rougher, but both cut through incredibly beautiful scenery. You may want to bring along a copy of The Milepost, available at most book stores. It includes a complete set of detailed maps and campground and service station listings along with other helpful information that can make your trip even more enjoyable. Good luck and drive safely.
Ride Boards
Check the ride boards at your local college or university. Also check the classified section of your local or school paper under "transportation" to see if there is anyone who wants to share a ride.
Traveling to Alaska By Ferry
We highly recommend riding the ferry to or from Alaska at least once. The trip is very relaxing and the scenery is breathtaking. The Alaska Marine Highway schedules service between Bellingham (ninety minutes north of Seattle), Washington, and Skagway, Alaska, with several stops along the way. Many people roll out sleeping bags on the solarium deck, which has radiant heaters and a glass roof. These huge ferries offer movies, bars, restaurants, and, on the larger boats, free showers. Please note that it's not possible to travel between Southeast and Southwest Alaska by ferry. Don't forget to make reservations well in advance if you plan to take along an automobile; the rate will depend on the length of your vehicle. Click here for fare information.
Traveling to Alaska By Thumb
Hitchhiking to and from Alaska is a common practice. While in Alaska, many people rely on hitchhiking as their sole means of transportation. It is generally much safer to hitchhike in Alaska than in the Lower 48. Alaskans are very friendly and community-oriented. Almost everyone at some time or another picks up hitchhikers, and most rides last at least a full day once secured. Carry a sign indicating your destination, and try not to get dropped off on lightly traveled stretches of road. It is not uncommon to have to wait two days to find a ride to your next destination.
A note of caution: hitchhiking alone is rarely safe no matter which part of the world you are in. If you choose to hitchhike, team up with a friend or two.
Auto Transport Companies
These companies – called driveaways – hire drivers on behalf of car owners who need their car transported from one city to another.
These companies often need drivers to drive cars across the country and sometimes up to Alaska. They generally pay for a portion of the gas. If the car is damaged or breaks down while you are driving it, the transport company's insurance covers it. Try reviewing the JobMonkey Auto Driveaway jobs listing or contact Dependable Auto Shippers, (866) 298-4221.
Alaska Pass
The Alaska Pass is a pass that allows you to use a variety of forms of transportation on unlimited trips over a set period of time. Like the Eurail Pass, users can decide how long they wish to travel and when they would like to begin their trip. The Alaska Pass includes travel by rail, ferry, and bus throughout the state. It's not cheap, but if you want to see as much as possible in a limited amount of time, it's a good bet. Call (800) 248-7598 for more information and a brochure.