Bristol Bay Alaska (Region 5)
Bristol Bay region is located on the Alaska Peninsula in the southwest of the state. Its largest towns include Dillingham, Naknek, and King Salmon.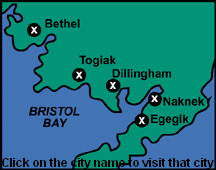 There are also several smaller communities along the coastline, including Ekuk, Egegik, Newhalen, Port Heiden, and Pilot Point. The Bristol Bay region is named for its large bay, the eastern part of the Bering Sea.
The bay's rich animal and mineral resources have drawn many people to its coastline. Bristol Bay has the largest sockeye salmon fishery in the world, but it's not the area's only seafood. The migrating chum, silver, and king salmon species also visit the bay each year, along with rainbow trout, Artic char, grayling, and dolly varden.
The fish bring thousands of amateur anglers to the Bristol Bay area each year, but fishing is also serious business to the locals. Commercial fishing, sports fishing, and seafood processing are some of Bristol Bay's key industries. Many short-term workers are employed in these fields during the busy summer fishing season.
Copper, gold, and the mineral molybdenum have also been discovered near Lake Iliamna and Lake Clark. These findings suggest a future for mining in the Bristol Bay region. While it may impact Bristol Bay's pristine environment, it would also create many new employment opportunities in the area.
Bristol Bay is home to a large population of indigenous Alaskans. They live together with descendants of the Europeans who worked in the region's first canneries, current air force military personal stationed at King Salmon, and the travelers and seasonal workers who regularly visit the bay region. The residents of Bristol Bay are warm and unpretentious, ready to welcome their arms to tourists passing through or anyone looking for a sea change.
With so many seasonal travelers visiting Bristol Bay, long-term vacation rentals and camping grounds are some of the region's most common accommodation options. The camping sites are typically basic, without creature comforts like electricity, showers, or toilets. However this back to basics approach is appreciated by the visitors who want to enjoy Bristol Bay's unspoiled wilderness. Bristol Bay doesn't have the diverse range of accommodation found in Alaska's larger tourist regions, but short-term travelers are still well catered for. The area's wilderness lodges are perfect for visitors wanting to enjoy the region's famous fishing and hunting, while bed and breakfasts suit guests who prefer a little more personalized pampering.
Just like its accommodation, dining in Bristol Bay is also quite simple, without the frills and posturing seen in many big cities. Instead you'll find good honest home cooking, often utilizing the region's premier seafood, at local inns and restaurants.
Bristol Bay has a maritime climate, with cool but humid weather conditions and strong, persistent winds. Temperatures in summer typically range between 40 and 65 degrees, and tend to drop to between 29 and 44 degrees during winter. With this cold often comes snow, with an average of 45 inches falling each year. Dressing in layers, particularly with a water-repellent wind breaker, is a good way to shield yourself from Bristol Bay's gusty weather and variable temperatures.
Despite their close proximity, it can be difficult to travel between the towns of Bristol Bay. Without buses or trains, most tourists hire a rental car to get around. King Salmon is considered the region's travel hub, with Alaska Airlines and PenAir both operating regular flights to the city. The Alaska Peninsula Highway connects this shipping community with the neighboring fishing town of Naknek. Dillingham also has an airport serviced by Alaska Airlines and PenAir. However many of Bristol Bay's traditional indigenous communities, including South Naknek, are not connected to their neighbors by roads. Vehicles can cross the frozen Naknek River during the winter months, but for the rest of the year the town and others like it enjoy their isolation.