Tourism Jobs in Alaska – Finding Seasonal Employment
If you're looking for seasonal work in Alaska, fishing and fish processing isn't the only game in town. Today other industries – especially tourism – are responsible for an increasing share of seasonal positions. Tourism is the state's second largest industry – after oil and fishing. Over 1.5 visitors come to Alaska and spend over $2 billion a year. They spend millions more traveling to and from the state. Tourism is the fastest-growing industry in Alaska, and the businesses that feed, house, and entertain these visitors are enjoying phenomenal prosperity.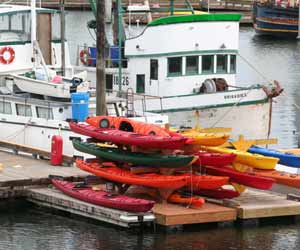 In terms of employment, tourism ranks as Alaska's second largest private sector employer. In addition, another 60,000+ jobs – in the retail, transportation, and service sectors – are impacted by tourist dollars. The industry's annual payroll is around $270 million. And while most of these jobs are held by Alaskans, the number of openings outstrips the local supply of workers.
The variety of jobs in the tourism industry is incredible. Cruise lines hire reservation agents, deckhands, stewards, cruise ship entertainers, and restaurant workers. Fishing and hunting guides, as well as hunting and fishing lodge staff, are always needed throughout the state. Restaurants need hosts, waiters, barstaff, cooks, prep cooks, and dishwashers. Campgrounds, hotels and resorts need everything from maintenance workers to housekeepers. Transportation companies hire bus drivers, boat, airplane, and helicopter pilots, tour guides, and even mechanics.
Local Hire
Of course, the vast majority of these positions are filled by Alaskans. In fact, many employers go out of their way to hire locals for tourist industry jobs. After all, it only makes sense for them to want to support their local economy. However, most employers aren't originally from Alaska and are eager to welcome newcomers. Coming early and making friends with locals never hurts in finding work. If you intend to stay in Alaska – and you can convince others of your intention to do so, chances are high that doors will begin to open for you.
Outdoor Seasonal Work
The state's Division of Fish and Game and Division of Forestry both hire seasonal laborers. These are well-paying jobs with good benefits; however, the state government is even more biased in favor of locals than the tourist industry. All applicants are asked to prove Alaska residency for at least six months prior to applying for state jobs. Non-residents are considered for most positions, but they rarely are offered a job unless there are no qualified local applicants.
Alaska Job Center Network
Practically every town in Alaska has an office of the state-run employment agency called the Alaska Job Center (or something similar; the name changes periodically). Many jobs are listed on bulletin boards and on computer databases, and some local radio stations even announce new openings.
Although the state's job offices are a good place to start looking, don't rely on them exclusively. Many jobs are filled by the time they make it to the office's bulletin board, so job-seekers often skip it and go straight to employers.
Job Ads
The best place to find job openings? Online, of course. Try the JobMonkey Job Center as well as Craigslist (in Alaska locations), and AlaskaJobFinder.com. Don't overlook the newspaper classifieds. As early as February of each year, shopkeepers in Southeast Alaska start advertising retail positions to gear up for the busy tourist season. Since turnover in these positions is quite high, many companies contract out the hiring, so private placement agencies hire for dozens of shops.
Word of Mouth
If you're already in Alaska, one of the most effective ways of finding a job is to simply ask around. Most Alaska fishing towns are very small, and once you get to know a few people, you'll start to hear about openings. For this reason, it helps to be social. Once you know what kind of work you want, meet others employed in the industry. If you want to work in a restaurant, get to know a few waiters. They're always among the first to hear about upcoming openings.
Door-to-Door Job Search
Most veteran fishing industry employees will tell you that the best way to get a job in the industry is to "pound the docks." This advice also holds true for the restaurant, tourism, and related industries. More often than not, employers – especially in high-turnover industries – appreciate the initiative of someone who comes to the front door, resume in hand, and asks for work.