Cordova, Alaska Employment and City Guide
Cordova is a small fishing town located on the eastern side of Prince William Sound. Its locals like to believe its Alaska's best kept secret, although travelers keen to leave behind the beaten path of Alaskan cruise ships are starting to discover this little known gem.
Cordova was originally populated by the indigenous Aleuts, who later lived peacefully alongside a group of migrating Athabascan and Tlingit people known as the Eyaks. Captain Cook encountered them in 1778 during his search for the Northwest Passage, as did Spainish explorer Salvador Fidalgo in 1790.
The Spaniard called Orca Inlet, in front of what would become the town, Puerto Cordova. This name was anglicized by copper prospector Michael James Heney in 1906. His arrival, and the discovery of high quality copper at nearby Kennecott, finally encouraged white settlement.
It was a slow start for Cordova, but the small town is making up for lost time now. Like so many Alaskan cities, it promises its guests world class fishing. Thousands of amateurs arrive in the city each year to join the pros fishing for the famous Copper River salmon. The fish must store extra fats and oils to survive their long migration down the river. This creates the firm red salmon flesh and rich nutty taste that gourmands go wild for. More than a million pounds of the distinctive tasting king, sockeye, and silver salmon are caught each year in Cordova by amateurs and the busy local fishing industry, along with halibut, salmon shark, and rockfish.
Fishing isn't the only opportunity to get out and spend time in Cordova's great outdoors. Visitors can kayak to one of the neighboring islands, or spend time on terra firma exploring more than 30 forest hiking trails. The fun doesn't stop once winter snow sets in either. The frozen Cordova Lake is ideal for ice skating, while Mount Eyak entertains intermediate skiers. For a greater challenge, adrenalin junkies can try heli-skiing in the secluded Chugach Mountains.
Cordova's residents love to party, and it seems it takes any excuse for the townsfolk to get together. The Cordova Iceworm Festival helps locals take their minds off February's icy weather with quirky and diverse activities including an oyster shucking contest, a talent show, and a ping pong tournament. The residents and visiting bird watchers celebrate the arrival of the migrating sandpipers and dunlins with the Copper River Delta Shorebird Festival in early May.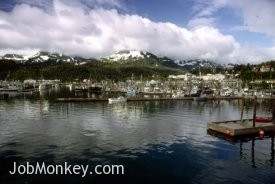 The townsfolk even band together to support sufferers of substance abuse with the annual Sobriety Festival in November. Rest assured though, the drinks flow freely at the Copper River Wild Salmon Festival every July.
Cordova enjoys a temperature climate, with mild temperatures and frequent rain. The summer typically brings pleasant temperatures in the high 50s and early 60s, but be prepared for the weather to dip if you're visiting during winter. The snow and sleet see the daytime temperatures drop to the high teens and early 20s. Remember to rug up and spend some time on the slopes to make the most of winter's chill.
The Childs Glacier Recreation Area is one of the most popular places for outdoorsy types to stay in Cordova. The location is awe-inspiring, with views of Cordova's famous icy glacier. Childs Glacier measures an incredible 300 feet high and produces spectacular waves when it calves. Toilets and picnic sites make this campground and natural parklands seem more luxurious than the average. This is just one of Cordova's local camping grounds, but there are many more options if you prefer to be pampered. Local hotels, motels, and bed and breakfasts offer all the comforts of home with a healthy dose of small town hospitality.
Cordova is not connected to the rest of Alaska by road, but tourists can travel there via the state's famous watery highway, the Alaska Marine Highway. The ferry travels to Cordova from nearby Valdez and Whittier. If you're short on time, or feeling flush with cash, you could also travel by air via Alaska Airlines or the smaller regional airline, ERA Aviation. Alaska Airlines travels from Anchorage and Seattle via Juneau each day, while ERA Aviation flies at least once daily from Anchorage.