Life Coach Jobs
Have you ever had trouble achieving your goals? Did you ever wish you had a strategy to change your bad habits? Ask yourself, what would I change if I could? Would a little life coaching help you?
Life coaches help people set and achieve goals. They listen to people's problems and help them find solutions. The focus is on changing behaviors that have a negative impact by finding actions and solutions that have positive outcomes.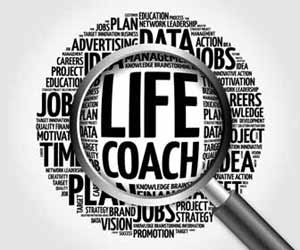 One of the big misconceptions is that life coaches are therapists. This is not true. Life coaches never try to find the root of any problem by delving into the past like a therapist. They are forward thinkers and help people plan for the future. There is an unfortunate stigma about seeing a therapist. Life coaches are more socially acceptable and the career is all the rage.
Clients want help with – creativity, children, writing, ADD, marriage, divorce, life purpose, retirement, organization, time management, family, lifestyle, diet, weight loss, eating disorders, self-confidence, anger, finance, spirituality, public speaking, entrepreneurship, emotions, life balance, working out, or relationships. Most life coaches specialize in just one area.
Life coaches need to be good listeners, problems solvers, motivators, and leaders. They meet with clients and talk about problems in an objective, non-judgmental, supportive manner. Once they know what the client wants they help the client achieve his goals. Behavior modifications, value assessment, identifying strengths and weaknesses, mentoring, counseling, coaching and change techniques help the client through this process. Everyone has unique issues so the coaching is different for every client.
The big problem with life coaching is that it is an unregulated profession. Anyone can print business cards and call himself a life coach. You don't need a license or even formal education. There is no professional standard. An unqualified life coach may not see the difference between a client that truly needs professional therapy and one that wants to be more balanced.
There are many organizations that offer life coach training, but only the International Association of Coaching (IAC) and the International Coaches Federation (ICF) offer legitimate life coach training and certification. Certification means that the life coach has a standard of knowledge – they know what they are doing. The ICF has approximately 12,000 members – membership has doubled in 5 years. More and more people are jumping on the trendy train and trying out this fashionable job.
The best way to learn this profession is to actually go through the process. Hire a certified life coach who you respect to coach you. Become an expert on yourself then strike out on your own. Build your client base and start coaching.
Life coaches can set their own hours and take on as little or as much work as they want.
Some require clients to commit to one month to ensure they are serious. Once a life coach has a client, they have that client for life. Follow up is important to make sure the client maintains his goals and desired lifestyle.
Life coaches hold the hands of people going through changes. They are usually self-employed, but may find work at a life coach agency. Depending on skill, location, specialization, and clientele a life coach may charge up to $300 per hour; and the exact fee depends on the life coach?s level of experience and location.
If a life coach can create change, they can change lives. It's not an easy job to help someone overcome writer's block, start a business, overcome a fear of public speaking, or begin a workout routine. Do you have what it takes to be a life coach?
Quick Facts About Life Coach Consulting
Job Title: Life Coach
Office: With your client
Description: Help clients set and achieve goals through behavior modification
Certifications/Education: No formal education required. Certification recommended
Necessary Skills: Outgoing, Supportive, Non-Judgmental
Potential Employers: Self employed, Life coach agency
Pay: Varies depending on the life coach
Helpful Life Coach Employment Links:
Search Life Coach and Other Coach Jobs on JobMonkey
International Coach Federation
International Association of Coaching
Life Coaching Trends