Greeting Card Writer Jobs
Did you know that Americans purchase 6.5 billion greeting cards every year? This $7 to $8 billion industry helps people around the world celebrate holidays and events like birthdays, anniversaries, graduations, Mother's Day, Valentine's Day, Christmas, Babies, Father's Day, and other special events. Basically there's a greeting card for every occasion. It's always fun to receive a greeting card, but who are the creative geniuses that write greeting cards?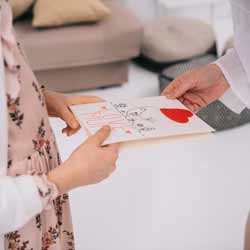 That cool job belongs to greeting card writers. Greeting card writers write greeting cards. It's a creative job that capitalizes on the power of the written word. Greeting cards make us smile, laugh, cry, and express other emotions. When we receive a greeting card, we know someone is thinking about us. It's a nice feeling.
As the voice of the card, greeting card writers need to be able to write witty, clever, humorous, creative, sensitive, romantic, punch lines and verses that create a personal connection between the buyer and receiver. It needs to be something that all parties will appreciate because the writer's word choice will have a meaningful impact on someone's life.
It's uncommon to see the same card on the shelf year after year. This means there is a constant demand for new, fresh, and timely greeting cards. Any greeting card writer with fresh and creative ideas will be in demand. Greeting card writers need to stay on top of trends, pop culture, psychology, and other niches. This helps them adapt and cater their writing to the card-reading audiences of the world.
The first step to writing a greeting card is to research the card company and the audience. Who will buy this card? Who will receive this card? What makes them tick? What makes them laugh, cry, or smile? Are the company's cards funny, sweet, or risqué? Based on their research, greeting card writers start to brainstorm ideas. Developing concepts takes time. It may take a day or a week to perfect a single greeting card idea. Once a writer finishes a card, an editor tweaks it again before sending it to the graphic designers.
To become a greeting card writer, you need to develop a greeting card portfolio and a web presence highlighting your wordsmithing skills. Attending university is not required, but a degree in writing, journalism, communications, advertising, or psychology is helpful. As long as you can write punch lines and verses that appeal to your audience and your employer, you'll be in good shape.
There are probably less than 200 full-time greeting card writing jobs in the US. The majority of greeting card writing jobs are contract or freelance based. Greeting card writers constantly monitor the websites of greeting card companies like Hallmark, American Greetings, Shoebox, Blue Mountain Arts, Paper Trail Press, Papyrus Designs, or MoonPig. This is often where contract and freelance job listings and submission guidelines are posted. Once a greeting card writer builds a successful relationship with a greeting card company, they are more likely to find consistent work.
Almost all greeting card jobs are flexible, which means you can work from anywhere in the world. Most greeting card writers are paid $35 and $200 per card that they write. Pay depends on their experience, relationship, success rate, and type of card. Usually humorous cards command a higher payment. Greeting card writing may not always be a full time, benefited job, but it's one that every writer will enjoy.
If you think you have what it takes to consistently write clever greeting cards that will make people around the world laugh, cry, smile, fall in love, and feel better, then become a greeting card writer. You'll love this job.
Quick Facts About Greeting Card Writer Jobs
Job Title: Greeting Card Writer
Office: Anywhere
Description: Write Greeting Cards
Certifications/Education: Not Required
Necessary Skills: Follow Submission Guidelines, Writing Skills, Networking
Potential Employers: Freelance Or Contract Work With Greeting Card Companies
Pay: $35 To $200 Per Greeting Card
Helpful Greeting Card Writer Employment Links: