Food Critic Careers
Where's your favorite restaurant? How do you discover new dining establishment? A respected food critic's reviews can help steer you in the right direction.
Food critics are taste connoisseurs with outstanding communication skills. It's their job to anonymously visit restaurants, taste the foods, drink the cocktails, and review the experience. If you're a foodie with a talent for communicating, a food critic job might be the perfect fit for you.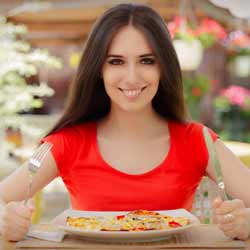 With over 616,000 restaurants in the US, there are plenty of opportunities for food critics to eat, drink, and write reviews. To become a successful food critic you must have both a passion for food and a talent for writing.
Learning about food is the easy part of the job. Food critics need to have a highly developed taste and a discernible palate. They need to have adventurous taste buds that are willing to try any type of food.
Many food critics start their career by attending culinary school or working in restaurants. This allows them to fine tune their taste and learn about appetizers, entrees, desserts, and drink selections. Perfecting the palate takes practice and diligence. Food critics need to be able to accurately identify and describe every type of food. If you can't taste it, you ultimately can't write about it.
The harder part of the job is honing your writing skills. Many food critics hold a bachelor's degree in English, Communications, or Journalism. It's important to write all of the time to enhance your writing skills.
One way to do this is to start a food review portfolio. Learn to paint a picture of the meal, the atmosphere of the restaurant, the customer service, and the overall experience. Make your readers feel like they were there with you.
Write clear and concise descriptions that appeal to the senses. Be able to understand atmosphere, food presentation, and taste. Read cookbooks to improve your culinary vocabulary. Visit food festivals. Read food and restaurants reviews for inspiration. Land an internship in the food world. Watch the Food Network. Subscribe to food magazines. Take cooking classes. And of course write a review for everything you eat.
Establish yourself by starting your own food review blog. It will help you develop a following. A successful blogger can make this a full time career, but most food critics strive to work for mainstream newspapers, magazines, or food websites. To do this, you need loyal fans and an outstanding portfolio. You also need to be skilled at word processing, online publishing, social media, and photography.
Many people will choose restaurants and meals based on your honest and descriptive reviews. Your words as a food critic can directly influence a restaurant's success or failure.
When writing food reviews, it's wise to avoid negative reviews and to focus on the positive. Whatever you write will be available for the world to see. Be consistent in your voice, honest in your reviews, and accurate in your descriptions. People appreciate that.
It's no easy task to land a mainstream food critic job. It's a competitive niche. With a journalism degree, a culinary background, and some writing talent, you can be successful.
Food critics split their time between restaurants and offices. On average, food critics make between $45,000 and $50,000 per year. Some food critics are paid per review. Pay depends on your readership and location. It will also be influenced by whom you write for and how much you write.
Being a food critic is a pretty amazing job if you can land it. There are not too many jobs where you get paid to eat. Bon Appetit!
Quick Facts About Food Critic Careers
Job Title: Food Critic, Restaurant Critic
Office: Restaurants and Computer Based
Description: Eat, drink, and write reviews
Certifications/Education: Journalism degree recommended
Necessary Skills: Developed taste, Writing talent
Potential Employers: Freelance, Newspapers, Magazines, Websites
Pay: $45,000 and $50,000 per year
Helpful Food Critic Employment Links: