Gunsmith Jobs
Guns can be safe, useful tools, but general wear and tear can make a gun inaccurate and unsafe. Guns need a knowledgeable, professionally trained gunsmith to service them regularly.
A gunsmith designs, fixes, repairs, modifies, services, and assembles firearms. They need in-depth knowledge of guns to help repair defects, to prevent failures, and to ensure that every gun they touch works and functions safely.
Working as a gunsmith is a restricted trade at the federal and the state level.
Guns are often the cause of controversy, which is why the Bureau of Alcohol, Tobacco, and Firearms (See: ATF Jobs page) oversee this profession.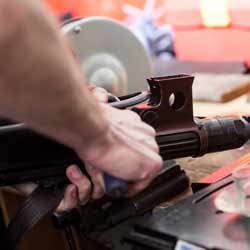 Every gunsmith must obtain a Federal Firearms License. It costs $200 every three years. The license ensures that the gunsmith has a clean background and allows the ATF to conduct surprise inspections at the gunsmith's premises.
Gunsmiths must record every bit of work that they do. Every job requires records of serial numbers, owner's information, gun type, caliber, gauge, and work done. These records are subject to inspection at any time by the ATF. Records also make sure that the gunsmith is not doing any illegal modifications and that he is not working with illegal firearms. The profession is regulated for the safety of the general public.
Every state requires gunsmith certification. Check the gun laws in your state. The Association of Gunsmith and Related Trades offers a variety of certifications like stock maker, firearms engraver, barrel maker, shotgun smith, or firearm repair specialist. Each certification requires at least a minimum of 4000 hours plus related instruction. A master gunsmith involves 16,000 hours plus related instruction. Hours are logged through apprenticeships.
Many gunsmiths learn this trade by going to a gunsmith school that focuses on gun manufacturing, design, restoration, or repairs. Gunsmith school teaches students about gun types, styles, and safety. It is important to learn these skills in a hands-on environment with a trained professional looking over your shoulder. Gunsmith school can be costly, but you pay for quality. With guns, one mess up can cost someone their life.
After a gunsmith is established, they work with individual clients and their guns. Gunsmiths use blueprints to help meet customer's specifications. Every customer will need something different. Some may need their guns serviced. Others may have safety mechanism issues, sticky firing pins, or bore problems. Some may want a custom engraved stock. Others may want an antique gun refinished. One big niche is after market additions like recoil pads, scopes, grips, or wood finishes.
In order to do their work, gunsmiths have to be hands-on. Gunsmiths use grinders, planes, millers, drill presses, lathes, saws, metalworking tools, and engraving tools to do their work.
This career is a mix of metal work, woodwork, mechanical work, and art.
See the blacksmith jobs page if this sounds interesting!
Most gunsmiths pick a niche and excel. This is a highly specialized career, with a limited market. The biggest clientele group is hunters looking for customized engravings on wood finished stocks or high tech scopes mounted for better accuracy. But a vast knowledge of gun types is key because over time, every gun will need to be serviced.
If you want to find work as a gunsmith look for jobs with firearm manufacturers, armories, sporting good shops, gunsmith shops, or start your own business. Gunsmiths can make $11 to $24 per hour or $25,000 to $49,000 per year.
Gunsmiths need an appreciation for guns. Most have a personal collection of rifles, shotguns, and pistols. A quality gunsmith with a reputation will quickly become a gun legend.
Quick Facts About Gunsmith Positions
Job Title: Gunsmith, Pistolsmith
Office: Indoors with guns
Description: Design, fix, repair, modify, service, and assemble firearms
Certifications/Education: Clean background check, Overseen by ATF, Federal Firearms License
Necessary Skills: Eye for detail, Knowledge of guns, Focus on safety
Potential Employers: Firearm Manufacturers, Armories, Sporting Good Shops, Gunsmith Shops, Self-Employed
Pay: $11 to $24 per hour or $25,000 to $49,000 per year
Helpful Gunsmith Employment Links:
Search Gunsmith Jobs on JobMonkey
National Rifle Association
American Gunsmithing Institute
Association of Gunsmith and Related Trades
Bureau of Alcohol, Tobacco, Firearms, and Explosives
Gunsmith Schools