Doorman Jobs
Have you ever walked down the street and noticed a uniformed person standing at attention in front of the door to a building? Did you know that buildings across the country employ a doorkeeper to work the door? It's a job and it pays.
A doorman or doorkeeper stands at a building's front door as a form of security and a symbol of status. It is an important job for buildings, especially apartment buildings. It is an elegant career for an honest person.
Plus, it is a job that is available all over the world.
Doormen are the first impression that someone gets of a building. They need to be appropriately groomed, well mannered, and have an overall clean appearance. This often means wearing a uniform and being abundantly welcoming. A good sense of humor, attention to detail, good service, and proper etiquette are important.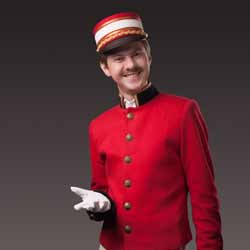 Doormen work for the building, but answer to the tenants, owners, and management. They are masters of customer service and communication. They perform their job at all hours with a smile on their face. Their main job is to act as a primary security system for the building. They learn and recognize the building's tenants and allow only the proper people to enter. They learn the area and are able to give tips or directions to stores or restaurants.
As they learn the tenants, they also develop a professional relationship with them. An outgoing personality, good character, respect, and discretion help a doorman be a hit. Doormen do many things to help tenants. They shovel sidewalks, hail taxis, open doors, accept packages, greet guests and tenants, set out garbage, give directions, accept tips, walk dogs, deliver newspapers and mail, take food deliveries, sign for dry cleaning, and accommodate other daily tasks that busy tenants need help with. It can be challenging because doormen are on their feet and in the weather all day.
If you want to become a doorman, you don't need much experience. The biggest key to finding a job is having a clean background check. This is important because you learn so much about guests and clients personal lives. You need to be able to use discretion, treat all guests equally, and bring a peace of mind to the building.
The best way to find work is to look in the Yellow Pages, Google, or apply directly to a building. Try looking for hotel employment, restaurant work, and opportunities at luxury apartments, and resorts. You can also contact your local union to get training or try to gain experience through part time work. Part time work is a great way to get your foot in the door.
It also allows for building specific training and for performance assessment before you work full time. There are often positions available because there is a high turnover rate.
Doormen work odd hours. Buildings often have a doorman on duty 24 hours a day. It is a job that might be boring. But if you are into people watching, being friendly, and catching the occasional tip for your outstanding customer service, it may be the job for you.
Being a doorman can be an interesting career. They are the gatekeepers of the building and hold the keys to the tenant's castle. It's a good job for a courteous, trustworthy, and helpful person.
Doorman Pay
Doormen make $8 to $15 per hour plus tips. If a doorman works full time, he can make about $30,000 to $40,000 per year. Some doormen also receive benefits. Pay depends on where you work and what your assigned duties are. The best places to work are high-end resorts or New York City.
Quick Facts About Doorman Positions
Job Title: Doorkeeper/Doorman
Office: At front door of building
Description: Open doors and greets guests/tenants at a variety of places
Certifications/Education: No formal education necessary.
Necessary Skills: Clean criminal background, communication skills, proper etiquette
Potential Employers: Resorts, Hotels, Luxury Apartments
Pay: $8 to $15 per hour or $18,000 to $40,000 per year, plus tips, depends on location
Helpful Doorman Employment Links:
Search Doorman Jobs on JobMonkey
American Hotel and Lodging Association
International Council on Hotel, Restaurant, and Institutional Education
Service Employees International Union