Economist Careers
Economics is a social science that focuses on the production, distribution, and consumption of resources, goods, and services. These factors have a direct impact on how the economy and ultimately the world works. The person who studies economics is called an economist.
Economists collect data, research trends, and evaluate variables. These social scientists are knowledgeable about economic theories and concepts. They apply these theories and their analysis to solve problems. Their goal is to communicate complex data so that others can understand it and to provide influential advice and recommendations to businesses, governments, politicians, and individuals so they can make informed and powerful decisions that may shape politics, create opinions, or change the future.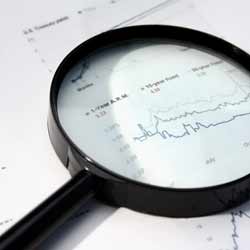 It's a powerful position. In fact, being an economist is a Nobel Prize worthy job niche. It's a broad field with many subfields. Economists can focus on micro or macro issues in a wide variety of niches including education, health, agriculture, tax, environment, energy, finance, productivity, trade, or employment.
Every economic niche requires economists to sift and sort through spreadsheets, reports, historical data, and other sources from which they form logical, statistically-backed opinions. They actively analyze inflation rates, employment rates, taxes, currency fluctuations, land use, stock markets, trade routes, GDPs, exchange rates, services, and interest rates. They want to determine the causes and effects to the economy and potentially how to solve the issue.
If you choose to become an economist, what problem would you want to solve? Do you want to answer questions about finances like how to invest or spend money? Would you prefer to look at the supply and demand of goods and services? Are you interested in how government policy affects the market? Are you intrigued by the use of limited resources like water, land, or materials? Do you wonder about the costs of education? Or do you want to look at the impact of global trade? It's a broad field with limitless options.
— View Economist Job Postings —
To become an economist, you need to have at least a bachelor's degree in economics to find entry-level jobs. If you want to be successful, you'll need to earn a Master's or Doctoral degree in economics.
The majority of economists work independently, but some work in teams to accomplish their goals and solve problems. Economists can find jobs with research firms, think tanks, big businesses, international organizations, and financial firms. The largest employer of economists is the government. About half of all economists work for some level of government. Alternatively, some economists work in the world of academia and others write best-selling books.
According to the Bureau of Labor Statistics, there were 16,900 economists working in the United States in 2012. This number is expected to grow by 14% by 2022. Economists earn $51,000 to $155,000 per year. On average, they make $91,860 per year or $44.16 per hour. That's a pretty high paying job!
Whether you realize it or not, the work of an economist directly affects you. They may advise a powerful politician about global trade, help a business cut costs by increasing supply, or help your state determine a new minimum wage based on current labor statistics. All of these things impact your life in one way or another.
You are part of the local, national, and global economy. Why not become an economist and help analyze and solve the problems that intrigue you? It's a fascinating and cool way to make a living.
Quick Facts About Economists
Job Title: Economists
Office: Office Based
Description: Collect and analyze data about the production, distribution, and consumption of resources, goods, and services
Certifications/Education: Master's Degree or Doctoral Degree in Economics
Necessary Skills: Critical thinking, Statistical and mathematical background
Potential Employers: Government, Research Firms, Organizations, Think Tanks
Pay: $91,860 per year or $44.16 per hour
Helpful Economist Employment Links: