Elvis Impersonator Jobs
You've heard of the famous American musician named Elvis Presley. He was a music star in the 50s, 60s, and 70s. His music is still popular today.
Unfortunately, Elvis died in 1977, but his fans are still alive. Elvis was the epitome of cool and popular which is why people all over the world impersonate him.
Elvis impersonators love Elvis Presley. While he is a cultural icon, it remains a mystery why so many people want to "be" Elvis. People impersonate Elvis for a hobby, a job, and even a weird career. Black, white, Asian, tall, short, old, young, fat, or skinny – anyone can impersonate Elvis. It's fun.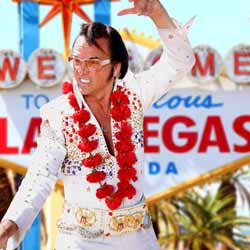 Have you ever wondered how many Elvis impersonators come out of the woodwork every weekend? A bunch. This is a job that spans the globe, which explains why there are so many Elvis spottings. Elvis makes appearances at bars in Thailand, festivals in Japan, street gigs in Vegas, pilgrimages to Memphis, and even on video games like Grand Theft Auto and Hollywood flicks like 3000 miles to Graceland. Note – did you see all the Elvis movie extras in the film Honeymoon in Vegas?
Elvis's music withstands the tests of time. His music spanned many genres and earned him the nickname the "King." His music was inducted into four music Halls of Fame – Rock and Roll, Country, Gospel, and Rockabilly. You may have seen the bumper sticker, "There have been 44 Presidents of the United States, but only one King – Elvis."
Elvis was charismatic. His classic look was aviator glasses, glittering jumpsuits, bushy sideburns, huge collars, and jet-black hair. He was a rock star and played the part.
If you are thinking about becoming an Elvis impersonator, don't quit your day job. It takes a lot of work and talent to make a good paycheck. Get started by loading up your iPod with Elvis music and taking a trip to Graceland, Elvis's Tennessee estate. Spend time watching DVDs of his performances. Practice his music, vocal ranges, stage presence, and deep, soulful voice. Buy and wear the appropriate clothes to be Elvis.
Start your impersonations with your friends to see what they think. Next check out the local bars, events, festivals, fairs, parties, concert halls, and karaoke places. You can try doing street performances and see if anyone enjoys the way you move your hips and hit your notes. Enter regional festivals and contests to see if you have what it takes. Make a portfolio of your image and record your sound. Respond to casting calls you find in the newspaper and online. Continue to develop your act. Then if you truly feel you may be the next big Elvis, go chat with some casinos on the Vegas Strip – that is where Elvis truly shined.
Elvis Presley Enterprises started the official Ultimate Elvis Contest. Each year contestants are judged on vocals, appearance, stage presence, and overall performance for the chance to win a cash prize of $20,000. Not bad for impersonating the King.
As there are so many Elvis impersonators around the world it is hard to pin down an exact or average wage. Most Elvis impersonators can plan on their wages being enjoyment. Some make tips from passer-bys on the streets. Others can pull in $100 per hour. But if you want to pull in around $100,000 per year look in Vegas.
Playing Elvis is a fun hobby and can even be a full time job. People recognize Elvis's music across the globe and realize his iconic cultural status. If you want to be one of the tens of thousands of people who impersonate this musical legend, good luck and have fun.
Quick Facts About Impersonating Elvis
Job Title: Elvis Impersonator
Office: Anywhere you dress and act like Elvis
Description: Impersonate appearance, character, and voice of the late Elvis Presley
Certifications/Education: No formal education required
Necessary Skills: Knowledge of Elvis's iconic status and music
Potential Employers: Bars, Casinos, Self Employed
Pay: $0 to $100,000+
Helpful Elvis Impersonator Links:
Search Elvis Impersonator Jobs on JobMonkey
Official Elvis Presley Website
Hire an Elvis Impersonator