Limo Driver Jobs
Whenever a limousine drives past do you find yourself staring? Trying to see behind the darkly tinted windows to catch a glimpse of someone important? Limousines carry an air of mystique and prestige as they travel on the world's roads. They are classy automobiles driven by professional limousine drivers.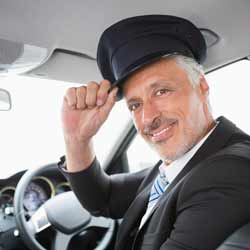 Limousine drivers provide clients with a fashionable and elegant way to travel. Limos have a stretched wheelbase that makes them extra long. The interior is divided into a passenger and a driver section.
Hiring a limousine can be expensive – think $150 to $200 per hour. But it is luxury travel. Most limousine drivers, who are sometimes called chauffeurs, cater to celebrities, executives, partiers, high rollers, politicians, or other wealthy people. Being a driver may give you the opportunity to rub elbows with the rich and famous.
Limo drivers have to be professional and this means going the extra mile for a client. Visually this means wearing a stylish uniform. Customer care is incredibly important. Drivers open and close the doors, carry bags, courteously converse, arrive on time, and anticipate what luxury items the client wants and needs – champagne, ice cream, newspapers, magazines, alcohol, music. They know client's destination, pickup time, and drop-off time.
Limo drivers are responsible for their client's safety and comfort. They must keep their vehicle in the cleanest condition. This means regularly cleaning, vacuuming, and washing the interior and exterior. Ensuring that the oil, fuel, lights, brakes, and wipers work properly is essential.
The main part of this job is driving. A limousine driver must have a driver's license with a clean driving record. It's very unprofessional to get a ticket with high-end clients in the vehicle. Limo drivers need to know the town. They need to plan and manage routes to avoid traffic and arrive quickly, find parking spaces, and be ready to run errands or wait for hours. Learning to operate a GPS is crucial. Remember, too, that if you want to change career paths there are always trucking jobs or you might even want to drive a Greyhound bus!
Limousine drivers are employed by limo companies, hotels, government agencies, and as independent contractors. Trips are always prearranged and specific drivers are often requested. This way the driver always knows who and what to expect and is able to build a client base.
Many drivers attend limousine school, but it is easier to contact a limousine company and receive on the job training with an employer. This way you know what to expect and how your specific situation will work. Some drivers start part time, until they prove their limousine driving skills.
A good place to start your job search is by contacting a local limousine company. Ask if they are hiring, but also find out what type of license you will need. Different states require different licenses.
A professional chauffeur works odd hours. They may work 40 to 60 hours a week. They spend a lot of time in the driver seat. When they aren't driving, they are waiting and are always on call. They must be ready to offer friendly, personalized service at any time.
Limousine drivers can plan to make $25 to $30 per hour plus gratuity. The average driver will make $32,000 per year plus tips. Pay depends on where you work and what type of clients you drive. It's not a difficult job.
If you start driving limos be ready for anything. You may find yourself cruising the Vegas Strip, rolling up to high school proms, hopping from bar to bar, delivering guests to concerts, driving to high end resorts, or picking people up from airports. Wherever you are driving a limo be professional and buckle your seatbelt.
Quick Facts Limo Driver Jobs
Job Title: Limousine Driver, Chauffeur
Office: Driver's seat of a limo
Description: Driving clients around in limousine
Certifications/Education: No formal education, Type of driver's license depends on location
Necessary Skills: Driving experience, communication skills, hospitality
Potential Employers: Limousine Companies, Governments, Hotels, Independent Contractors
Pay: $25 to $35 per hour plus tips
Helpful Limo Driver Employment Links:
Search Limo Driver and Other Driver Jobs on JobMonkey
Limousine Driver Training
New York City Taxi and Limousine Commission
National Limousine Association
Find A Limo Service
Taxi, Limousine, and Paratransit Association