Helicopter Pilot Jobs
Imagine dropping skiers onto a remote mountain peak, bringing rock climbing fanatics to a far off piece of rock, covering the local traffic jams, searching for a lost backpacker, chasing a stolen boat, or taking aerial photos of cities. These are all things you do as a helicopter pilot.
Helicopter pilots have it made. They fly in expensive machines that can zig and zag, go up and down, left and right, or diagonal. They can even hover in one place. These things are the absolute coolest. No other flying apparatus can do what a helicopter can do.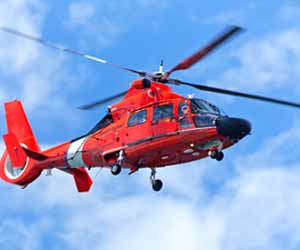 Helicopter pilots do all sorts of things because helicopters are such a versatile aircraft. Helicopters do things like…aerial photos, land mapping, wildlife surveys, search and rescue, firefighting, sightseeing tours, heli-skiing, heli-hiking, accessing remote construction sites, avalanche rescues, logging, weather observations, crop spraying, traffic reporting, prospecting, inspecting oil pipelines, military operations, covering high-speed car chases, or anything else that you can do in the air.
Currently, many of the best helicopter pilots earned their wings while serving in the military. After being discharged from the Service, they continued flying professionally. Many of them are near or at retirement age, which means more employment opportunities for trained helicopter pilots.
Helicopter pilots are highly trained flying professionals. They get to do amazing things that most people only dream about and they get paid. For transporting people and things, a helicopter pilot can make $34,000-$119,000 per year, with most pilots averaging $67,500. That's amazing money for doing something you are sure to love.
Unfortunately, not just anyone can become a helicopter pilot. It takes work. Pilots need to be in good health, have excellent vision, fast reflexes, and amazing hand-eye coordination. They need to know about weather, navigation, aerodynamics, aircraft, and laws. When a pilot sits in a cockpit they are scanning the horizon and the air surrounding them, but also eyes are constantly scanning the instrument panel to tell altitude, fuel consumption, direction, and much more. It's like driving a car, in the air.
Being a helicopter pilot takes time, money, skill, dedication, and a passion for flying. In fact, it can take up to 6 months full time just to get your pilot license. Flight school can cost upwards of $50,000, although a cheaper option is to learn in the military. After you graduate and become a pilot, you still need to obtain a commercial pilot license with at least 150 hours, from the Federal Aviation Administration. Then to actually be job eligible and covered by insurance you need to log 500 to 1,000 hours of flight time.
When you learn to fly, you take on a huge amount of responsibility for your cargo, passenger, and your helicopter. If you want to fly helicopters you need to have a passion for flying, attend a good flight school, meet eligibility requirements for age, language, and medical checks, obtain the proper licenses and ratings, then log hours. It's a process.
Jobs can be hard to find, but don't be discouraged. If you gain experience with different types of helicopters, earn as many flying endorsements as you can, and log hours as a co-pilot, a flight instructor, or by doing short quick flights you'll eventually find work. You may start out with irregular hours or be on call to fly. Some jobs are seasonal, while others are contract based.
Once you fly, you'll fall in love with the views, the sensations, and the helicopter. You'll know that all the hard work and time was worthwhile when you are fighting a forest fire outside of Bozeman, dropping skiers on a knife-edge ridge near Valdez, or scanning for traffic jams on Seattle's highways. Helicopter pilots are needed everywhere, and now is your chance to earn your wings.
Quick Facts About Helicopter Pilots
Job Title: Helicopter Pilot
Office: The air
Description: Transports people and things via helicopter
Certifications/Education: Commercial Pilot License
Necessary Skills: Hand-Eye coordination, Navigation,
Potential Employers: Logging companies, heli-ski companies, large corporations, law enforcement, tourism, sightseeing, search and rescue, oil companies, farmers
Pay: $34,000-$119,000 per year
Helpful Helicopter Pilot Employment Links:
Search Helicopter Pilot and Other Pilot Jobs on JobMonkey
Federal Aviation Administration
Flight School List
Flight Training Forum