Become an Immigration Specialist
You can't just go to another country and apply for a job to teach skiing in a foreign mountain range or permanently move to a tropical beach on a far-flung island. If you want to do something abroad, it's a good idea to chat with an immigration specialist to help you do it legally.
An immigration lawyer, or immigration specialist, knows the ins and outs of immigration law. Immigration law is a complex set of rules and regulations that are constantly evolving.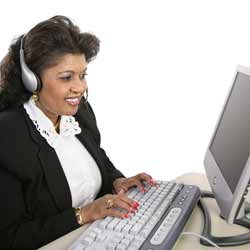 Immigration specialists work with people to help them through the immigration process and to ensure that everything is done according to the law.
Immigration is a global phenomenon because people are seeking international opportunities or a better quality of life in a different country. Technology has made it easier for people to work from anywhere they choose. Every country has different rules regarding immigration and every country needs qualified and educated immigration specialists to help people understand and follow national immigration laws.
The United States is a country founded by immigrants. It currently allows over 1 million people to become permanent residents each year. These new immigrants need help applying for green cards, obtaining temporary visas, finding work, seeking asylum or refugee status, earning citizenship, changing visa status, getting student visas, filing petitions, requesting labor opinions, asking for dual citizenship, adopting foreign babies, or proving genetics. Immigration is a field that requires specialized training in order to set people up for success.
People who seek help from immigration specialists need help organizing paperwork and documents, require advise on up-to-date immigration laws, and need knowledge of timelines and deadlines. With close attention to details, anyone can do immigration work, but it is a complicated process that truly deserves a professional's knowledge and commitment.
Immigration lawyers spend their days consulting with clients. They help prepare the paperwork and organize any necessary documents that the government requires. Immigration is a long process because the paperwork, background checks, and other legal mumbo jumbo must get stamped and approved multiple times. Often immigration lawyers can work with clients for years on end to achieve immigration success. It can be a rocky road with lots of potholes and not many loopholes.
There are many ways to help people with immigration issues. Admissions departments at universities and human resources at large corporations advise people on how to apply for appropriate visas. The big bucks in immigration are earned by immigration lawyers who must attend a four year university, three years of law school, and must pass the state bar exam. Others start as a paralegal, which requires a 40-hour course, before they begin working in this exciting, specialized legal career.
Most of the time an immigration lawyer works with clients at his office and avoids typical courtroom lawyering. Some dabble in criminal or deportation court cases, but most take advantage of the curious and anxious people seeking help to immigrate to a new country. One good way to succeed in this field is to specialize in a niche like a specific region of the world or a specific type of immigration.
Immigration is a rewarding career, where you can help people fulfill their dreams of living or working in a foreign land. Besides feeling good when you achieve success, immigration work pays well. An immigration specialist can make $41,000 to $80,000 per year working for the government, human resources departments, or admissions offices.
Working with people from all over the world is a fun way to spend a day at the office. Immigration will always be a part of our world, which makes it a wonderful career choice.
Quick Facts About Immigration Related Careers
Job Title: Immigration Specialist, Immigration Lawyer
Office: Law office
Description: Help organize and assist people with immigration issues
Certifications/Education: Law degree, Immigration
Necessary Skills: Up-to-date of knowledge of immigration law
Potential Employers: US Government, Human Resources Department, Admissions
Pay: $41,000 to $80,000 per year
Helpful Immigration Specialist Employment Links:
Search Immigration Specialist Jobs on JobMonkey
American Immigration Council
US Citizenship and Immigration Services
American Immigration Lawyer Association
National Immigration Forum
ILW.com's Immigration Daily
National Immigration Law Center