Industrial Designer Careers
Grab a product – any product. An appliance, toy, iPod, ski, bike, soda bottle, or guitar will do just fine. What do all of those things have in common? Most likely an industrial designer designed them all.
Industrial designers create concepts and designs for manufactured products. They design the products that you use every single day. From cars to forks to medical equipment, industrial designers are the minds behind any product that is mass-produced.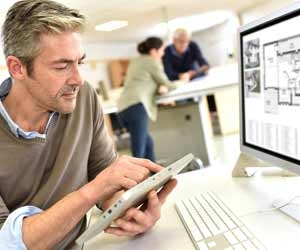 Industrial design is a mix of art, business, design, and engineering. The goal is to design a cost effective, user friendly, environmentally friendly, functional product that both clients and consumers will approve of. It requires a lot of work, but it's rewarding for an industrial designer to see his work go from a simple sketch on a napkin to a mass produced product that anyone can buy at Target.
Clients, like LG or Cuisinart, hire industrial designers or a team of industrial designers to design and develop their products. The industrial designer consults with the client to determine the design requirements. They ask questions like – How will the product be used? Who will use the product? How can we improve the product? How can we cut costs? They also consult with the end consumer to get their thoughts on the product's use and function. The answers and research fine-tune the design.
Next, the industrial designer creates sketches on paper and on the computer using CAD software. They work with the clients and consumers to develop and tweak these virtual models. Once the designs are ready, prototypes are created to further improve the designs. This process ensures that the product is safe, appealing, and functional.
When both the client and the consumer give the product two thumbs up, the industrial designer works with mechanical engineers to mass-produce the product. The industrial designer may be involved in this process to ensure that production is efficient, cost effective, and on schedule. Finally the product is ready to be sold to the public.
The industrial designer plays a role from beginning to end. They work with the clients, consumers, and products from the design phase through the production phase. Essentially the industrial designer helps to sculpt the brand through the products he designs.
To become an industrial designer, you need to earn a degree in industrial design, architecture, or engineering. There are about 300 universities accredited by the National Association of Schools Of Art and Design that offer these degrees. A bachelor's degree is required for entry-level jobs, but a Master's degree is highly recommended.
After earning a degree, aspiring industrial designers need to build an industrial design portfolio. Industrial design internships offer a way to gain real world experience and to get hands on with real products. Industrial design firms or large corporations look to hire industrial designers with both a stellar portfolio and applicable experience.
Industrial designers will work with a wide variety of clients and products. They spend time in an office, testing facilities, design centers, client's workplaces or homes, manufacturing facilities, and presentation rooms. It's a job that keeps you on the move ensuring that the product is functional, user friendly, and cost efficient.
According to the Bureau of Labor Statistics, approximately 39,200 industrial designers work in the US. That number is expected to grow 4% by 2022. On average, those industrial designers earn $59,610 per year or $28.66 per hour.
Next time you pick up a mass-produced product, soak in the fine details of its design. You're bound to be impressed. If design intrigues you, find an industrial designer job. It's a cool way to make a living.
Quick Facts About Industrial Designer Careers
Job Title: Industrial Designer
Office: Office Based
Description: Design And Develop Products For Mass Production
Certifications/Education: Bachelor's or Master's Degree, Portfolio
Necessary Skills: CAD Software, Design Background
Potential Employers: Industrial Design Firms and Large Companies
Pay: $59,610 per year or $28.66 per hour
Helpful Industrial Designer Employment Links: