Forklift Driver Jobs
Can you lift 100 cases of Pepsi over your head and tidily place them on a shelf? How do you move 10 potted trees on a landscaping site?
What's the best way to set up the large sales displays at the home hardware store? It would take hundreds of man-hours to move lots of really heavy things, but it's easy work, if you're a forklift operator.
Forklift operators transport heavy loads from one place to another. They typically work at warehouses, storage yards, nurseries, factories, construction sites, or shipping docks.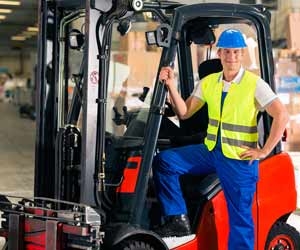 Anywhere heavy things need to be moved around, certified forklift drivers are needed.
Forklifts have been a reliable way to move heavy things since the early 1900s. They consist of a rear wheel drive truck frame with a large counterweight that keeps the forklift grounded while lifting heavy loads. Most forklifts can lift 1 to 5 tons, but some are specially designed to raise and lower up to 50 tons! Each forklift is rated for a certain maximum load and that dictates where the machine's center of balance is located.
It's the forklift operator's job to make sure the forklift is always properly loaded and does not exceed any weight capacities. From the cab of the forklift, the driver manipulates buttons, wheels, and levers to safely and efficiently raise, lower, and transport huge loads. He is responsible for both the safe loading and unloading of wooden pallets and cargo. He's in charge of making sure everything is put in the right place.
Dealing with heavy loads and big machines is definitely hazardous. Forklifts are notoriously unstable as they lift multi-ton loads high in the air or transport them across slick floors. Heavy loads that are improperly loaded could fall and crush someone. Visibility is an issue because forklift operators can't see as well as you can in your car. When people or pedestrians are around the hazard level increases.
Operating a forklift is serious work requiring focused individuals. Safety must always be the main priority. The Fair Labor Standards Act classifies forklift operators as a hazardous occupation. This is because every year there are nearly 35,000 forklift accidents that result in nearly 100 deaths. Most forklift incidents are related to driver error and that is why every forklift operator must be certified.
In order for companies to carry liability insurance, all forklift operators are required to be certified. Certification must meet the Occupational Safety and Health Act (OSHA) Compliance for Forklift or Lift Truck Operators. There are several training and certifying companies that offer the training. Typically it takes place online and can be completed in less than 3 hours. Certification lasts for 3 years.
To find work as a forklift operator, apply for jobs with any major company or warehouse. Be sure you have a clean driving record and can pass a drug test.
Usually you must be 18 years old and have a high school diploma or GED. Plus you need your Forklift Certification.
When you land a forklift driver job, you can plan to make $15 to $20 per hour or $23,000 to $39,000 per year. They work around the clock, typically in 8-hour shifts. Graveyard shifts are typical to avoid working when pedestrians are around. Alaska, Nevada, Connecticut, New Jersey, and Massachusetts are the states with the highest forklift operator wages. Some career forklift operators make more money by competing in Forklift Rodeos, where they drive through obstacle courses and compete in other challenging events.
If you have always wanted to work with heavy machinery, look for work as a forklift operator. It's challenging with a bit of danger appeal added in.
Quick Facts About Driving a Forklift
Job Title: Forklift Driver, Forklift Operator
Office: Warehouses, storage yards, nurseries, factories, construction sties, shipping docks
Description: Use heavy machinery to transport heavy loads
Certifications/Education: OSHA Forklift Training and Certification
Necessary Skills: Able to Follow Instructions
Potential Employers: Warehouses, Shipping Yards,
Pay: $15 to $20 per hour or $23,000 to $39,000 per year
Helpful Forklift Operator Employment Links:
Search Forklift Driver Jobs on JobMonkey
Forklift Operator Training and Certification
OSHA Forklift Training
US Open Forklift Rodeo and Safety Expo