Working for Austin City Limits 2022
Festival Details
When: October 7 – 9 and October 14 – 16, 2022
Where: Zilker Park, Austin, Texas
For tickets, concert line up, purchasing transportation and general information visit the Austin City Limits webpage.
The Austin City Limits Music Festival is a famous music festival in Austin, Texas that brings in nearly 60,000 people each day to see 130 bands performing on several stages.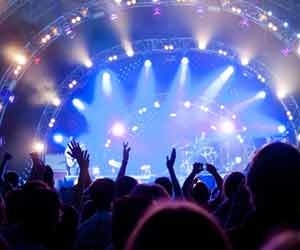 Since its conception, Austin City Limits has been grouped with Bonnaroo, Lollapalooza and Coachella as one of the largest and most popular concerts in the United States. Named after the PBS concert series, the Austin City Limits Music Festival features bands that fall into the genres of indie, hip hop, alternative, electronic, reggae, folk, country, pop, blues and rock and roll. The festival has become so popular in recent years that attendees fly from all over the United States to attend including the large number of people who drive from nearly every Texan city. Aside from the festival, visitors staying in Austin enjoy a city known for its love of music and liberal attitudes. Ziller Park, where the concert takes place is located in the center of the city allowing for easy access to more of Austin's sights and sounds.
JOBS AT AUSTIN CITY LIMITS
Like any large festival, Austin City Limits requires a number of workers and staff members to pull it off. Austin City Limits is put on by C3 Presents, an event and concert organization and planning company. C3 Presents is also well known for its work with Lollapalooza, another large festival that it organizes and staffs.
Pre-event and Marketing Jobs
Most of the staff positions available at this time are in marketing, booking artists, event organization and planning. If you have experience in PR, or any of the aforementioned areas it is likely you would be a good candidate for C3 Presents as they gear up for planning the festival. To apply for C3 Presents you will have better luck if you are located in Austin or Chicago, where they have offices. Additionally, the number of positions and concert staff needed for Austin City Limits is not publicly listed, but if you have experience in the industry, it is a great way to start. C3 accepts applications directly.
Austin City Limits Internships
What C3 does offer people interested in getting started in concert and event planning are student internships. Internships for Austin City Limits are highly coveted positions so applying early and often for openings is recommended. Interns might be responsible for making calls, assisting event planning directors, research, talent booking, artist management and can also get positions as general event staff during C3 Presents concerts. To apply for an internship in Austin with C3 Presents, check out their intern application.
General Concert Staff Jobs
General concert staff positions will be filled by C3 employees and through hiring companies.
General staff positions include food and merchandise vending, ticket sales at the event, set up and break down, staffing information booths and much more. General staff positions are easier to come by if you have some experience but many people will be trained for the event. Working as a staff member for the concert is a great way to make some money over the course of a week or weekend, while enjoying music. There are no staff positions listed yet on the Austin City Limits website but sending an informative letter to info@c3presents.com is a good place to begin. Also, consider volunteering at the event to gain some experience and access to the concert and check back on the ACL webpage for new positions that become available. You will be able to apply directly in this way.
Volunteers
Anyone interested in becoming a volunteer for Austin City Limits should check out the volunteer section on the Austin City Limits website where you can access a PDF. of frequently asked questions. All ACL volunteers must be 18 years of age or older in order to work at the festival. As a volunteer you might be responsible for working Patron Services such information and lost and found, helping attendees recycle or working kids activities. Most shifts are four hours long and as a volunteer, you gain free access to the event on the day you work. All volunteers should begin applying in early June through the ACL webpage. Previous successful volunteers will be shown preference.