Jobs at Stadiums and Event Venues
If you love attending events and want to find a job that allows you to do so day after day, then consider finding work through a venue or coliseum that houses events throughout the year.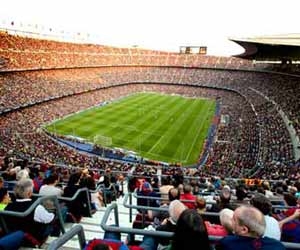 Bands, theatre groups, ballets, sporting events, festivals, weddings and even company parties tend to utilize the same venues because they provide the utilities needed for an event. As such, the same places each year are used time and time again for a number of different events. Therefore, finding work at a concert hall or coliseum, convention center jobs, or even jobs at a hotel that houses events, is a great way to work in the industry as a career, instead of working for one over the course of a weekend.
Because convention centers and concert halls put on concerts and throw event parties consistently, working for one of those venues is a great way to gain both full-time and part-time work in the events industry. Not only is it a great way to attend concerts or sporting events but it is also an excellent way to work your way up in the events industry. By working for an events venue you can learn about all the aspects involved in throwing and planning a successful event. Areas that might be difficult to gain experience in such as lighting, audio engineering, staffing, booking bands and entertainment are all aspects of working for a venue that you will have access to.
Additionally, venues provide all sorts of events jobs possibilities. For example, venues hire event planners, security teams, set up and break down crews, ticket cashiers, entertainment bookers, PR and marketing staff, food staff, janitorial staff, lighting and sound engineers in addition to a large number of administration staff members that are needed in order to be sure that events follow budgets and are profitable for the venue. With so many events jobs accessible by working for a venue, it is a great way to work towards a career while enjoying something that you love.
There are of course, many perks in working for a venue that puts on events. You gain access to sold out concerts, comedy acts and sporting events throughout the year while improving your resume with work in an industry. Working for a venue can be an excellent learning experience and a great way to make money doing something you love.
Consider looking for work through a venue instead of for a single event if you're eager to learn more about event planning, a specific aspect about planning an putting on events (like sound, PR and security) and gain experience in a growing industry that can provide you with consistent work.