Lollapalooza Jobs 2022
Festival Details
When: July 28 – July 31, 2022
Where: Grant Park Chicago, Illinois
For the concert line up, general information, prices, and ticket information please check out the Lollapalooza website.
Lollapalooza is one of the many great American music festivals.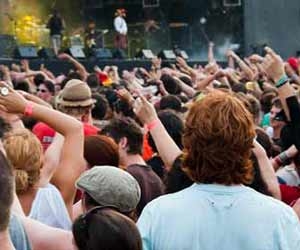 It began in 1991 when Perry Farrell of Jane's Addiction started the concert as a farewell tour for his band. What it turned into was an iconic American music tour for the grunge era until the tour stopped in 1997. It was revived, however, in 2003 until it stopped and began again in 2005 as a weekend music festival instead of a traveling tour. It is held in Grant Park in Chicago, Illinois. While during its early years it was largely known as a hub for grunge and alternative rock, rock bands, dance and comedy groups, indie music and electronic bands have all been invited. This August will feature another great lineup filled with big acts.
JOBS AT LOLLAPALOOZA
Lollapalooza is put on by C3 Presents, a concert organization and planning company.  C3 Presents also puts on Austin City Limits, another popular weekend concert festival. With offices in both Austin and Chicago, many of the jobs surrounding Lollapalooza are hired directly from C3 Presents.
Concert Food Vendors
If you are a food vendor in the Chicago area, consider applying to be a vendor for the Lollapalooza festival. The festival website has all the information on costs and requirements for vendors. Food vendors that represent local Chicago favorites and interesting varieties are most likely to be considered. With nearly 65,000 visitors each day to the festival, being a food vendor or working for a local food vendor at Lollapalooza is a great way to make some extra money. To work for a food vendor at Lollapalooza your best bet is to apply directly to restaurants or vendors that will be selling at the festival. They hire employees directly.
Concert Staff at Lollapalooza
Most of the concert staff hired for Lollapalooza is hired directly from C3 Presents. With their Chicago offices, most of their staff members will be onsite to help with parking, information booths, ticket holding, merchandise sales and more. If you're interested in being a part of Lollapalooza, think about applying directly to C3 Presents and check their careers website for openings.
Volunteers
It is no surprise that a large number of volunteers are needed to make Lollapalooza successful. Working as a volunteer at the festival is a great way to gain access to the show and to lend a helping hand. For volunteer information at Lollapalooza check out their website for full details. All volunteers for Lollapalooza must be 18 years of age. In order to gain free access to the show, you will need to work at least one 4-hour shift and you only will have access on the days you work for the festival. You can help out at Kidzapalooza, recycling and at the Access Center. To apply for a volunteer position send in your application by mid-May to early June. You will need to attend a brief orientation before your shift.
Lollapalooza Internships
C3 Presents offers internships to both the concert organization company as well as the festival. For internship opportunities at C3 Presents, see their website. For internships at Lollapalooza, check out Lollapalooza's PDF application and information online.