Live Nation Concert Jobs
Live Nation is a company at the forefront of live concert events. While Live Nation's main role involves promoting and producing concerts and music festivals, it also plays a strong role behind developing concert tours and release dates for artists.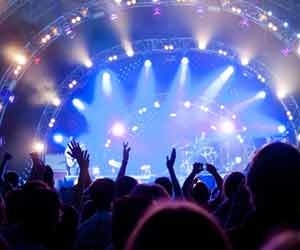 Live Nation's subsidiaries are now managing more than 500 artists – over double the number they were looking after just three years ago.
Current Live Nation Artists include: Rihanna, The Lumineers, Zac Brown Band, Florence & the Machine, Arctic Monkeys, Madonna, Jay Z, Shakira, Fleetwood Mac, Nickelback and U2 to name a few. Live Nation also plays a role in producing other live events such as the Super Bowl halftime show, although this is mainly due to the strong musical presence associated with events of this kind. On the company's website Live Nation states its main role as marketing and selling concerts for artists. Although Live Nation does own a portion of copyrights for some of its artists, including a deal with Jay Z entitling the company to future copyright of his music, it consistently presents itself as a service industry for artists and fans, rather then an "owner" of music.
Live Nation is listed on the New York Stock Exchange as LYV, a moniker that has garnered a lot of attention due to the 16,000 live concerts produced annually and the nearly 45 million concert tickets sold to venues in over 57 countries. Live Nation is also expanding its platform to include ticketing and has also been successful in expanding its role with Live Nation Artists to control record release dates, merchandise sales and sponsoring. Live Nation currently owns dozens of venues across the globe including the House of Blues. This is quite an impressive resume when you consider the company began in 2005 with president Michael Rapino, as a spin-off from Clear Channel Communications.
For a complete list of Live Nation Artists and information on the company, see the Live Nation homepage.
Live Nation is headquartered in Los Angeles, California and as a result, a large number of work opportunities are located there. Because of the scope and size of Live Nation, the company consistently looks for a variety of positions when considering new employees.
Just a few of the job opportunities available with Live Nation include: Director of Ticketing, Director of Sales, General Manager, Retail Associates, Operations Assistants and Interns, Sales Manager and Interns, Production Manager, Sponsorship Coordinator, Cocktail Servers, Parking Attendants, Web Developers, Cooks, Ushers, Talent Buyers, Account Executives and Club Assistants.
Jobs of every kind are needed in order to make Live Nation a successful company. This includes everything from office work and accounting to physically setting up shows for concerts and working at venues. Anyone interested in working an events job should consider employment with Live Nation. Working with one of the leading companies in live concert entertainment is a great way to begin gaining work experience in events jobs.
Check out all the latest Live Nation job openings in the JobMonkey Job Center. Find something you like and apply online! Although Live Nation is located in California, the company owns venues in a variety of locations so working with Live Nation isn't specific to jobs in California but can vary extensively especially depending on the venue.