Event Volunteer Jobs
Working as an events volunteer is one of the best ways to access some of the world's best and biggest events.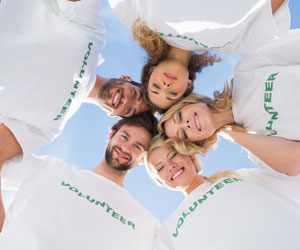 Large festivals, concerts, sporting events, parades, marathons and even the Olympics are successful only through the hard work of thousands of volunteers who dedicate their time to help. It is for this reason event volunteers are an integral part in the success of any event.
Working as an events volunteer comes with a lot of perks. While some people will pay hundreds of dollars for premier concert tickets and sporting events, volunteers at these events often times gain access for free in exchange for working a shift. Free access to an event is perhaps the primary reason behind working as an events volunteer although, there are many other reasons people donate their time.
Helping the community benefits everyone and people often work as events volunteers to give something back. Race for the Cure marathons and 10ks garner some of the largest volunteer forces ever recorded because of the good cause the races represent. People also volunteer in order to support loved ones who are participating in the event, or for events like the Special Olympics they volunteer because they care deeply about the cause or charity that the event represents. The number of people who volunteer that are primarily motivated by the event or charity itself is always impressive. Therefore volunteering your time for a cause or to simply give back to your community is a large driving force behind event volunteering. Additionally, the success of many events hinges on the number of volunteers who come forward to work. So many people donate their time because they want the festival, concert or parade to return year after year.
Volunteering also is an excellent way for students to add volunteer hours to their resumes. Having volunteer hours on a college or graduate school application speaks highly towards your character and many students especially enjoy the free access to a favorite concert in addition to those resume hours.
Some volunteering jobs and of course internships turn into work opportunities. While it isn't recommended to seek out a volunteer job for this reason alone, the people you meet in a dynamic industry and the networking that volunteering can provide can sometimes be an excellent tool.
Regardless of your motivation, volunteering always represents support toward the event. It is a great way to give back, support and enjoy events and people all over the world.
Becoming a Volunteer
Since most events are successful because of their large volunteer force, there are almost always ways to get involved.
Check out the event webpage for their volunteer section or where you can access that information. Most websites have online applications or instructions for people who want to volunteer along with age requirements and frequently asked questions. For some of the most popular events like large concerts or sports, volunteer positions go fast, so think about applying early and checking back for new volunteer spots often.
When you sign up as a volunteer you will most likely be trained on the day of the event or prior to your shift. The beauty of volunteering is that it requires very little experience so nearly anyone can dedicate their time.
Within each of our event profiles we provide information on how to apply as a volunteer. Enjoy the many perks volunteering provides and sign up to help the next event in your area!