Jobs at Tennis Grand Slams
Wimbledon Jobs
The Wimbledon Tennis Tournament is one of the world's most popular tennis events. The 2022 Wimbledon will be from June 27 – July 10 at the All England Lawn and Tennis Club in London, England.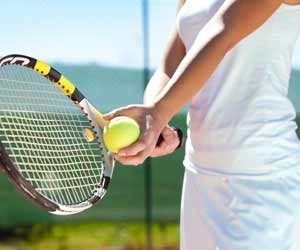 An event of this magnitude requires a lot of full-time and temporary staff including volunteers in order to be successful.
The AELTC is currently hiring temporary staff to help coordinate the event. For a full list of jobs available both for the AELTC and for Wimbledon, visit the Wimbledon job board. Positions such as catering, court attending, janitorial, data collectors, security, grounds work and van and bus drivers are all in demand for the upcoming tournament. Through the Wimbledon website, you can apply directly.
Positions such as ball boy and ball girls are provided through local schools and are not individually recruited.
French Open Jobs
The French Open, which was held between May 16 – June 5, 2022 is said to be one of the most challenging of the tennis tournaments. It is held at Roland Garros Tennis grounds in Paris, France.
While no public information is listed about French Open employment, positions to work the event can be found through the venue: Roland-Garros. Be sure to check the official webpage for event information, volunteer and available internships for the 2022 French Open.
US Open Jobs
The US Open is another of the Grand Slam tennis tournaments attended by world athletes and fans. In 2022, it will be held from August 29 – September 11 in Flushing, New York at the USTA Billie Jean King National Tennis Center. The tournament is put on by the USTA so all employment opportunities can be found through the United States Tennis Association.
To access current job listing for the USTA, including jobs that are relevant for the US Open, check out the United States Tennis Association job board and website. Many of the positions listed here, are not only event-related but also include administration jobs, marketing, public relations, accounting and much more.
The US Open works only with the help of thousands of volunteers. The USTA is also responsible for staffing tennis tournament volunteers and volunteers who will help consistently with tournaments across the country. Check out more information regarding US Open Volunteering, now.
The Australian Open
The Australian Open is the first of the Grand Slam tennis tournaments and his held each year in Melbourne, Australia at Melbourne Park.
The 2022 Australian Open will be held January 17 – 30.
The Australian Open hires a number of volunteers and fills temporary positions for the tournament. You can access information regarding Australian Open volunteer and work positions through the Australian Open Job Board.
For venue work opportunities through Melbourne Park, including Australian Open job opportunities, check the Melbourne Park Job Board.