Working at Bonnaroo 2022
Festival Details
When: June 16 – 19, 2022
Where: Manchester, Tennessee
For full information regarding the concert's lineup, camping, ticket purchasing and transportation, see the Bonnaroo Music Festival webpage.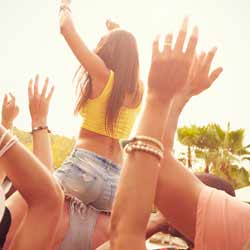 The Bonnaroo Music Festival is one of the largest music festivals in the United States. Held every June on a 700 acre farm in Manchester, Tennessee this four-day event houses some of the best current music in the world. In addition to rock and roll, Bonnaroo has jazz, contemporary, electronic, hip-hop and more all for the enjoyment of the thousands of fans who camp and attend each year. Within the festival is the Bonnaroo entertainment village, with a beer festival, cinema, theater productions, music technology seminar, a full arcade and of course, miles of food and drink. Did we mention the entertainment village is an additional 100-acres of fun? This means that Bonnaroo is one of the largest full-scale concert festivals put on each year and it certainly means a large number of staff are required to pull it off. Check out some of the details surrounding this year's Bonnaroo Music Festival and how you can be a part of the festival.
JOBS AT BONNAROO
So you think Bonnaroo is the music festival for you? Check out the following information regarding work and volunteer opportunities at Bonnaroo.
First, be advised that Bonnaroo is located in Manchester, Tennessee. Usually, transportation to any festival will not be reimbursed but will be the sole responsibility of the employee. Secondly, Bonnaroo is a very large event. Jobs need to be solidified early in order for event planners to know that the event will be properly staffed. Apply early!
The Bonnaroo Experience – A Short Film By Already Alive
Bonnaroo Vendors
If you want a concert food vendor job at Bonnaroo, you will need to apply using an application on the Bonnaroo website. All vendors at the concert will need to be pre-approved by the concert staff. Applications are accepted until all slots are full.
Click here for Bonnaroo vendor application.
To work for a vendor at Bonnaroo you will need to be individually hired by the owner of that vending station or be hired through Bonnaroo concert staff and volunteers. Looking for vending staff needed through these avenues is your best bet to find work at a vendor station.
Concert Staff at Bonnaroo
To be hired as a staff member at Bonnaroo you need to visit the official site – frequently and early. Staff positions include ticket sales, merchandise vending, general event staff, entrance and exit stations, entertainment stations, some food and beverage positions, marketing, general concert assistance and set up and break down. Any hired staff member who works a minimum of two shifts will get free entrance to the show.
Bonnaroo Volunteers
In order for the Bonnaroo Music Festival to be successful, a large number of volunteers are required. Volunteers are needed for pre-festival, post-festival and for work during the concert itself. Volunteers at Bonnaroo will end up doing any number of activities. Set up, break down, vending assistance, self-catering, information booth staff and much more! The perks to being a Bonnaroo volunteer are akin and in some cases better than for staff members. Free entrance to the park, camping in staff areas, access to showers and concert merchandise are all perks to being a Bonnaroo volunteer. Volunteer shifts are six hours at a time and for each six-hour shift worked you receive a meal stipend for food at the event. While Bonnaroo is no longer accepting pre-festival volunteers, concert volunteers and breakdown staff are needed. This is a great way to gain access to the concert and get in some amazing volunteer hours.
To learn more about becoming a Bonnaroo volunteer, check out their volunteer information online or email: volunteers@bonnaroo.com or pods@bonnaroo.com.