Border Patrol Jobs
The United States Border Patrol is the uniformed part CBP, which falls under the Department of Homeland Security (DHS). According to their website, CBP was founded in 1924. That first year, Border Patrol started operations with 450 officers, and set to work regulating traffic across the country's borders. Most of the patrol's work was focused on stopping illegal immigration and alien smuggling.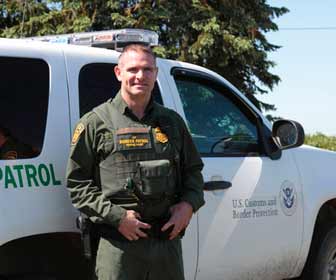 The terrorist attacks of September 11, 2001, and subsequent attacks, changed that mission. Now, Border Patrol's focus has shifted toward prevention of terrorism through working to stop the flow of terrorists and terrorist weapons into the country. Border Patrol works to secure the 6,000 miles of international border with Canada and Mexico, and the 2,000 miles of coastal waters around Florida and Puerto Rico.
Personality Traits
CBP Public Affairs Officer Tara Dunlop said that the agency's ideal recruit is someone "who prefers working outdoors and can successfully complete an oral interview, medical and fitness exams, drug testing, and background investigation."
Dunlop also said that military veterans are strong candidates because "we offer an opportunity to protect America, in America. In fact, veterans make up more than 20 percent of the Border Patrol."
While prior law enforcement experience is helpful, Dunlop said, it is not required because the Academy will provide agents with the knowledge and skills they will need to do the job.
Border Patrol Qualifications
The CBP trains students from a variety of backgrounds, and Dunlop said the agency welcomes those with college degrees, and those with a military background have proven to be highly successful.
Fluency in Spanish or the aptitude to learn Spanish is necessary. Spanish language immersion is provided at the Academy for those who need it.
Border Patrol Training
The CBP has established standardized training, The Office of Border Patrol's Field Training Standard Operating Procedures, and has made many significant improvements to the training process in recent years.
Agents attend a rigorous training academy, currently located in Artesia, New Mexico, where they learn immigration, nationality, and criminal law, and receive defensive techniques training, firearms training, and task-based Spanish language immersion training.
Dunlop said many candidates are surprised by the in-depth nature of the training program, and that they receive full pay and benefits during training.