Department of Defense Jobs
Working for the Department of Defense (DOD) can mean a lot of different things. Of course, a Department of Defense job could mean serving your country in the Army, Navy, Air Force or Marines, donning a uniform, and get some of the best training available anywhere in the world.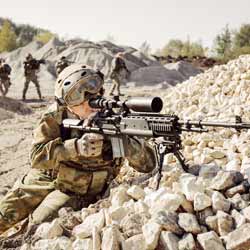 The Bureau of Labor Statistics (BLS) reports that more than 2.3 million people serve in the U.S. Armed Forces. Of that, more than 1.4 million were on active duty (the rest served in the Reserves). Of those on active duty, more than 565,000 served in the Army, 322,000 in the Navy, 330,000 in the Air Force, and 201,000 in the Marine Corps. An additional 42,000 people served in the Coast Guard – now have Department of Homeland Security jobs.
The decision to enter the armed forces is a serious one that should not be taken lightly – you should discuss the possibility with trusted friends or relatives who have served to get an honest, real-life view of life in your chosen branch. However, if the armed forces are right for you, you will get some of the best training and educational opportunities available in any industry. And once you leave the armed forces, your veteran status (along with unparalleled work experience and excellent network) can set you on a path to some of the highest-earning jobs in your field. If you stay on long enough (20 years), you will also walk away with excellent retirement and health benefits.
If the idea of working for the DOD appeals to you, but you don't want to join the armed forces, there are also vast numbers of civilian job opportunities supporting the DOD, working directly for the government or through a defense contractor.