Seasonal Bus Driving Jobs
Tourism Industry Jobs
Maybe driving a big truck isn't the right job for you – for whatever reason. You can still be a part of the transportation industry with a seasonal tour bus driver job.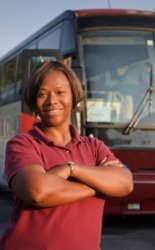 Driving a motor coach you will transport passengers around a city or to a tourism destination. You still need to have a valid CDL to operate a vehicle with several passengers in it, so it's important that you have the proper credentials before going out to look for work in this area. A Class C commercial driver's license is required in order for a driver to operate a vehicle transporting more than sixteen passengers.
JobMonkey specializes in summer jobs, and we know that seasonal van and bus drivers are highly sought after by employers. As a tour bus driver you'll be responsible for safely transporting passengers in a courteous manner as you'll no doubt be representing your employer while driving this vehicle. You'll need to be familiar with set routes and schedules in order to efficiently transport these passengers to their destination. While some tour bus drivers are also the tour guides, this is generally not the case. Most tour companies hire tour guides to conduct the tour while the driver concentrates on the driving. This is not only safer for everyone involved, but also ensures that everyone enjoys the tour a lot more. Drivers are also responsible for checking over the vehicle before and after a trip to ensure that the vehicle is safe to operate.
Bus drivers are generally hired by municipal transit systems, charter bus services or tour bus lines. While some tour bus drivers stay within a set area, many more of them transport large groups of people to other distant areas in other states and tourism destinations. In this manner the job is like long-haul trucking, in that the driver is responsible for getting his cargo to a distant destination, safely and on time. Full-time municipal bus drivers, motor coach drivers and tour bus drivers can expect to earn an annual salary of between $21,600 and $52,300, with the average salary being $38,100. This range in salary is dependent on many factors, including the company you work for, the area of the country you work in and whether or not you work for a municipality. Long distance drivers may also be paid by the mile depending on the company they work for.