Stevens Transport Jobs
Stevens Transport is one of North America's most responsive and enviro-conscious refrigerated transport companies, offering all types of modal service to customers in Canada, Mexico and the continental United States. Founded in 1980 by Steven L. Aaron, the company has grown over the decades into one of the most reputable transport carriers offering refrigerated service to its many clients. By matching up the best employees with the latest technologies and equipment, Stevens Transport is able to allow their employees to become more like partners in the business. The company is currently one of the leading privately-held firms in the nation, due in no small part to the expertise and loyalty of its employees.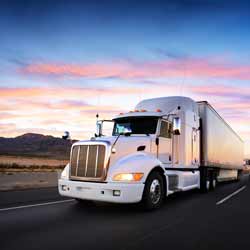 Stevens Transport has over 3,000 associates serving corporate clients as large and diverse as Kraft, Proctor & Gamble, General Mills and Kodak. The company has worked hard to ensure that their organization continues to thrive by making sure that all associates have the very best equipment and technologies as well as the specialized training required to further the company's high performance standards. The company also has a fleet of over 1,850 top of the line Kenworth and Peterbilt tractors coupled with more than 3,100 ThermoKing refrigerated transport trailers.
A Career that begins with the Best Training
With its training center in Dallas, Texas, Stevens Driving Academy is more than capable of training its own drivers as well as anyone else who wants to learn. The facility has specialized classrooms, full driving tracks for students to practice on and state-of-the-art equipment. Financing for the training is available through the academy with plans guaranteed for those students with a one-year commitment to drive for Stevens Transport upon graduation from the course. Not only that, but low-cost housing is available with your course with no-interest financing. The academy will even pay for a bus ticket to get you to their training facility – now that's incentive!
Once you have your Commercial Drivers License (CDL) Stevens Transport will pay you $350 per week for eight weeks while you do your on the job training behind the wheel. A Stevens's trained instructor will make sure that you're ready to get behind the wheel and start your career as a professional truck driver. If you help to load and unload the freight, you can make an additional $100 a week.
Some of the Best Benefits in the Industry
Because having healthy drivers means more miles safely driven, Stevens Transport ensures that all of its many employees have some of the best benefit plans in the business. By ensuring that all drivers and their families are well taken care of, Stevens can be sure that every driver can focus on transporting freight shipments around the nation.
The medical plan offered by the company includes many forms of coverage at competitive rates along with a complete prescription drug plan. When drivers and their families take part in the medical benefits plan, inclusion in the comprehensive dental plan is offered at no additional cost. That means even more health plan savings for drivers with children living at home. Medical plan enrollment also means that drivers and their families receive full vision benefits as well. Short and long-term disability insurance coverage is available to drivers and their families as well as life insurance coverage. Retirement savings packages as well as paid vacation time is available for all employees after one full year of employment with the company.
For more information on training with Stevens Driving Academy or working as a driver for Stevens Transport, visit the company website.