Jobs with Estes Express Lines
Estes Express Lines began service in Southwest Virginia during the Great Depression of 1931. This may not seem like it would have been the best time to start a business, but W.W.Estes saw the potential in the service and believed he could make a go of it. He bought a single, used Chevy truck and started hauling farm produce and supplies.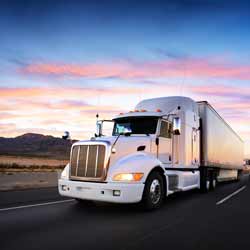 The fact that the truck didn't have a windshield or a driver's seat didn't stop him from doing what he knew would be a good business. Sitting on a packing crate behind the wheel of his truck, he went from farm to city picking up and delivering products and supplies.
Today, Estes is one of the fastest growing LTL and truckload companies in the country. With 13,000 employees and more than 30,000 tractors and trailers, Estes provides service to all 50 states, major markets such as Mexico and the Caribbean and all 10 Canadian provinces. They believe the dedication and quality of their employees and the service they provide is what sets Estes Express Lines apart from its competition.
By creating a supportive, safe and pleasant working environment, Estes gives its employees the tools they need to be successful and to grow with the company. Continually improving performance, service and equipment has allowed them to create customer loyalty that has kept Estes growing for over eight decades.
Drivers looking to pursue successful careers with Estes can choose from a wide range of driving occupations including:
Pickup and Delivery Driver (P & D) Jobs
Driver Qualifications
Must be at least 21 yrs. of age with 2 yrs. experience as a driver preferred
Should have Class A CDL
HazMat and Doubles endorsements may apply
Driving for 11 hrs. per day may be required
Forklift experience and being able to lift a minimum of 70 lbs. may be required
Ability to load/unload trailers with pallet jacks and cargo weighing over 70 lbs.
Should have stable work history and excellent customer service
Must pass DOT drug testing, background check and physical exam
Work activities to include standing, lifting, turning, twisting, climbing etc.
Must have acceptable MVR
Driver Benefits
Accidental death and dismemberment plan
401(K) program with matching company funds
Dental, Life and Health insurance plans
Paid holidays and vacations
Short and Long-term disability plans
Vision and prescription plans
Safe driving bonus programs
Line-Haul Driver
Truck Driver Qualifications
Must be at least 21 yrs. of age with 2 yrs. experience as a driver preferred
Should have Class A Commercial Driver's License
HazMat and Doubles endorsements may apply
Driving for 11 hrs. per day may be required
Forklift experience and being able to lift a minimum of 70 lbs. may be required
Ability to load/unload trailers with pallet jacks and cargo weighing over 70 lbs.
Should have stable work history and excellent customer service
Must pass DOT drug testing, background check and physical exam
Work activities to include standing, lifting, turning, twisting, climbing etc.
Must have acceptable MVR
Estes Driver Benefits
Accidental death and dismemberment plan
401(K) program with matching company funds
College scholarship awards
Dental, Life and Health insurance plans
Paid holidays and vacations
Short and Long-term disability plans
Vision and prescription plans
Safe driving bonus programs