Driver Jobs with Yellow Freight (YRC Worldwide)
Yellow Freight Transportation is the largest subsidiary of YRC Worldwide, one of the country's largest and most respected transportation companies. The company strives to be the leading transportation provider for customers worldwide.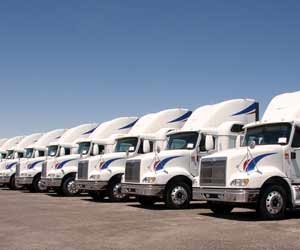 Providing regional, national and international transportation services to over 400,000 customers, the company is constantly on the look out for proven performers looking to make their driving career with Yellow Transportation.
The company offers guaranteed, time-definite and hassle-free transport services for all its many business customers around the world. Yellow Freight utilizes today's highest technology to provide the best service to its customers through its thousands of drivers, sales personnel and management team members. The company was founded in Kansas in1924 and provides transportation service throughout the United States, Canada and Mexico as well as Puerto Rico, Guam and Hawaii. The company has earned the status of Best in Class through the hard work and professional dedication of its employees. For over 75 years the company has been an industry leader in customer satisfaction and quality service.
Yellow Freight Driver Pay
Line-haul drivers working for Yellow Freight Transportation (under YRC) can expect to earn $21.10 as an hourly wage which translates to an annual salary of $42,033 (www.glassdoor.com). The company is an equal-opportunity employer and encourages diversity and continuous improvement in all its employees. The company is among the industry leaders in providing challenging and exciting career paths with full benefit programs including health and life insurance plans, dental, vision and prescription drug programs.
Military Personnel
The company is always on the lookout for the best-trained personnel and as a result is actively recruiting employees with military experience.
YRC Worldwide values the skills that have been learned while in the military and welcomes all personnel with military backgrounds to apply for all of their many positions from dock workers and terminal hands to drivers and office personnel. The challenging and rewarding career choices offered by YRC Worldwide are especially suited for those people transitioning from military to civilian life. Veterans of military service, retirees and National Guard and Reserve members are also encouraged to apply for employment with the company. The company provides excellent pay and benefit packages and a stable company tradition of hiring military veterans throughout its history. The company has 13 percent of its workforce who are current, retired or ex-military personnel. YRC Worldwide has hired thousands of military personnel over the last 5 years alone, with over 800 of them being called to active duty since 2001.
Right now, you can find current YRC Worldwide Truck Driving Job Openings in the JobMonkey Job Center!