Swift Transportation Jobs
Swift Transportation Company has one of the largest truck fleets in North America and combines strong regional operations with worldwide specialty and intermodal transportation packages. With a fleet of nearly 18,000 trucks, the company specializes in transporting retail and discount department store merchandise, manufactured goods, paper products, perishable and non-perishable food products and building materials. The company has a growing cross-border operation with Mexico that ships at many border points from Texas to California. The company recently purchased a Mexican carrier and is a leading transportation provider under the Trans-Mex fleet banner.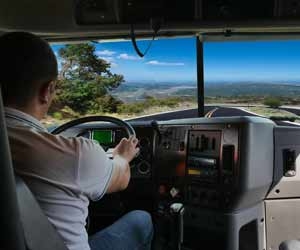 Students looking to find work as truck drivers can apply to the Swift Driving Academy, with classes starting weekly. The tuition for the comprehensive 23-day course is $3,900 and the company will reimburse each student during 26 months of employment with the company. There is a non-refundable sitting fee of $150, due on your first day of class. The course includes student housing, bus transport to and from the Academy, all study materials and testing, physical -Workwell and drug screening tests, and all license fees.
Swift Transportation operates several driving academies throughout the country. Each one offers a very comprehensive course that will help you get the confidence and skills you need to become a valuable long-haul driver. The driving academies are located in Arizona, Idaho, Tennessee, Texas, Utah and Wyoming. The company offers a PPO plan that allows you to choose your own care and service provider. If you choose the in-network providers, however (Humana ChoiceCare Network), your costs will be substantially reduced. The medical plan also includes basic vision coverage.
Swift's benefit program also has a no-deductible prescription drug plan that allows a variable level of coverage based on each employee's needs. The company also has a very good family dental plan that covers office visits and procedures, including orthodontia.
Swift Transportation Company has a wide variety of truck driving positions available throughout its vast transportation network. The company employs over 25,000 drivers and other personnel as well as independent contractors. Some examples of the salaries of various Swift drivers (with varying levels of experience) include:
Single, dry van driver with one year experience – 2,100 miles driven per week – approx. annual salary $41,110
Driving team, dry van with 3 years experience – 4,000 miles per week – approx. annual salary $88,710
Single, flatbed driver with 5 years experience – 2,100 miles per week – approx. annual salary $48,750
Driver/Mentor Lev.2 – Dry van, Driving team w/5 yrs. exp. – 4,000 miles per week – approx. annual salary $98,030
Explore all of Swift Transportation's current job openings in the JobMonkey Job Center right now!