Roehl Transport Truck Driving Jobs
Ever since 1962, Roehl Transport has been providing excellent motor carrier service, growing from a single truck company into a fleet of over 1,700 tractors and 4,000 trailers. Roehl Transport is now one of the nation's largest trucking companies providing high-quality service to manufacturers of many of the most prestigious brand name merchandise in North America.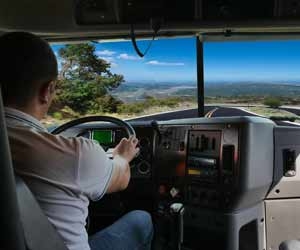 The company has earned hundreds of awards and corporate distinctions over its nearly half-century of service, including Environmental Protection Agency and American Trucking Association awards and recognition. It's no accident that this company has been voted as one of the safest transport companies in the nation. Drivers working for Roehl Transport have the reputation for being the very best drivers on the road. This means more than simply having the best driving skills. All Roehl drivers have a high level of professionalism and courtesy to other drivers and to their customers, which adds to that deserved reputation in their daily interactions with the public.
The company not only offers defensive driving training but also provides protective driving training, so that all drivers don't just try to avoid accidents but drive in a way that protects themselves and others on the road. Roehl Transport training is the most advanced and comprehensive driver training program in the industry, resulting in a huge reduction in accidents over the years.
Working for the Best
Roehl Transport understands that there's a relationship between the amount of income you can make as a driver and the home time you can spend with your family. The key is to make sure that you have as much home time as possible while still ensuring that you get the miles you need to make a good living. While this isn't always an easy balance to find, Roehl Transport makes it easier by arranging schedules and freight flow plans so that you have as much home time as possible. There's no reason for you to be out on the road for weeks at a time – unless you want to be. All drivers work closely with a fleet manager who knows every aspect of each trip from start to finish and will help arrange it so that you're home for any special occasions you need to be at, such as birthdays or anniversaries.  By ensuring that all drivers have job-efficiency tools such as EZPass, PrePass and TransFlo cards, time spent in lineups and idling is greatly reduced.
Roehl Transport (Job Board) has regularly scheduled maintenance checkups for all vehicles, making any downtime for maintenance problems very rare. The company knows that having an excellent maintenance program will keep you out on the road and earning money. If any driver has any sort of emergency breakdown problem on the road, Roehl Transport fleet managers send out the nearest available service to get you back out on the road. Roehl Transport even has a program that allows you to take your spouse or child (above age 10) on the road with you.
The company even makes it a priority to get emergency messages to drivers from their families no matter where in the country you might be, by using the DriverLink satellite communication system.
Roehl Transport provides Practical Mileage Pay (PMP) which works out earning you thousands of dollars more income each year because you're paid for more of the miles you actually drive. Higher mileage rates are only part of the equation though. Roehl Transport also works hard to ensure that drivers are always moving as much as they'd like to so they earn more. The company tries to always provide drivers with 2,300 to 2,600 miles per week. With that mileage number, an excellent income and plenty of home time balance is maintained. Roehl Transport has quarterly and annual safety bonus programs that put money in your account just for being a safe driver. The majority of all Roehl Transport drivers earn up to $2,500 in safety bonuses every year. Excellent medical, dental and vision plans are provided as well as group life insurance and prescription plans for drivers and their families.