Jobs with TMC Transportation
If you're looking to drive for a company that's an industry leader in driver pay programs in the United States you need look no further than TMC. Their pay program offers each driver the chance to be paid based on their overall performance as a driver and not just how long they've been driving for the company.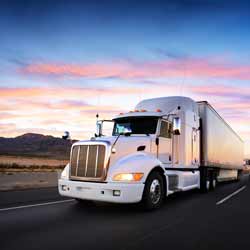 Pay rates are calculated based on a monthly basis and adjusted according to each driver's performance that month. Drivers working for TMC regularly average salaries of $40,000 to $45,000 with some drivers earning over $60,000 in their first year with the company!
For those drivers looking for an alternative pay program, TMC also offers one of the industry's best mileage-based pay programs. New drivers with the company can earn as much as 40 cents per mile along with bonuses. The company believes that each driver's job performance should be the deciding factor in setting the individual pay rate. Even new drivers just starting out with the company can earn as much as veteran drivers – if their performance levels qualify them for the top pay rate.
Line-haul Drivers
Line-haul drivers move all types of freight by flatbed trailer across the state or across the country. Whether it's building materials, steel pipe, iron products, machinery or other commercial products, TMC helps to keep the country moving by keeping it supplied with these materials. The company is always looking to hire the very best truckers in the business. Drivers looking to work as a TMC driver should have the following qualifications:
Must be at least 23 years of age
Have a valid Class A CDL
Have no more than 3 moving violations in the last 5 years
Must have a good work history and safe driving record
No felony convictions allowed
Must be able to perform all essential physical aspects of the job
Other Truck Driver Opportunities:
You can take what you've learned after driving for a full year and become a driver trainer to earn extra income
Visit trucking schools as a driver to recruit new drivers and earn extra income
Many drivers become office workers such as recruiters, instructors, safety managers and training directors
Company Benefits:
The company offers some of the best and most affordable health plans available in the industry to its employees.
Dental, vision and prescription coverage plans are also available to make taking care of your family an easy and affordable task. The company offers Blue Cross/ Blue Shield coverage that makes any out-of-pocket costs to you very minimal. Employees with TMC have this coverage effective after three months with the company. Coverage costs for singles is $26.92 per week and the family rate is $80.50 per week. These costs include the BCBS, dental, vision and prescription coverage plans.
Military Truck Driver Apprenticeship Program
The company has been hiring former and current military personnel as drivers for a very long time and their military apprentice program is designed specifically with them in mind. The program is VA approved and allows military personnel to earn Montgomery GI bill benefits while they're training. Personnel who qualify for this apprentice program can draw these VA education benefits for up to two years while working with TMC.