Star Transportation Truck Driver Jobs
Headquartered in Nashville, Tennessee, Star Transportation is an irregular-route truckload carrier that operates within North America, with the majority of their traffic being east of Dallas, Texas. With over 650 tractors, the company is one of the largest trucking companies in the nation with terminals in Memphis, Knoxville, Atlanta, Indianapolis and Orlando. Fleet managers arrange schedules and assign transport shipments so that all drivers enjoy a maximum amount of home time after their work is completed. The company is also committed to having each customer's shipment location available by offering online tracking ability. The QualComm tracking system allows pinpoint tracking of any shipment, anywhere in the world, providing peace of mind for our customers. PrePass is an innovative weigh station bypass system which greatly speeds up our shipments by taking away the need for drivers to pull over to weigh stations, get in line and wait to be weighed.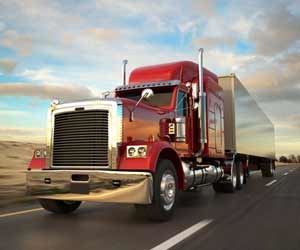 Excellence doesn't just happen
The management team at Star Transportation (Job Board) is one of the best in the business and we pride ourselves on the overall level of exceptional communication between managers, drivers and dispatchers to get every shipment to its destination. Full-service maintenance shops are located in the Nashville and Memphis terminals to allow for quick and efficient maintenance and repair jobs to all Star vehicles. Star Transportation knows that an efficient maintenance schedule means less down time and more money for its drivers and the company. As important as it is to keep drivers on the road, management also realize how important home time is for the drivers and their families. That's why Star spends a good deal of its scheduling time making sure that drivers make it home to be with their loved ones on a regular basis.
Star's drivers also have some of the best benefit plans in the industry, with jobs that offer them plenty of miles (should they want them), schedules that allow them to be home most weekends, late-model assigned vehicles and very competitive pay structuring. Medical, dental and vision plans are all part of being a driver for Star Transportation, along with holiday pay and generous 401K plan contributions.
The goal at Star Transportation is to ensure that all truck drivers have the maximum of choices when it comes to their career. Contract drivers working for Star Transportation receive $1.00 cpm (full or empty), with Star paying for all scale costs, highway fuel taxes, and satellite communication equipment installation in the vehicle. Contract drivers can also participate in the company's own Star Fuel Card program, offering drivers discounted prices on fuel, additives and oil purchased at authorized Star fuel stops. This program saves drivers thousands of dollars a year in operating costs alone.