Professional Chef Interview
Abigail Ben Yehuda is a fully qualified and trained chef and has worked for various restaurants, catering companies, and resorts around the world and currently works as a freelance private chef. She tells us about her time as a resort chef.
Where Did You Work?
I worked at various resorts and hotels in South Africa, the Seychelles, and Israel, where I learnt a great deal about the different cuisines of those places and about the different cultures. It was amazing to travel to all those places and get experience in different types of kitchens. I worked as Senior Chef de Partie at Stillness Manor and Spa in Cape Town, and also worked as Chef Tournant at the luxurious Singita Game Lodge in Sabi Sands in South Africa. I went to Israel and the Seychelles where I was a line chef on an exclusive private island retreat.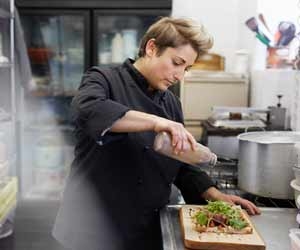 How Did You Get Into Cooking?
I have always had a passion for cooking and simply followed my heart. I trained at the IHE (Institute for Hospitality Education) and received my cooking diploma, after which I landed an apprenticeship at The Cellars Hohenort Hotel under exec/head chef, Phil Alcock. I now have 9 years of food industry experience under my belt.
I first got the chance to work at a resort later in my career through some chef friends and was asked to help out for a busy season. I didn't even really interview with them – they just looked at my resume and offered me the job.
Tell Us About Your Typical Day
As a Senior Chef de Partie at Stillness Manor and Spa in Cape Town, South Africa, I oversaw both hot and cold kitchens, spending some time doing pastry and the breakfast lunch and dinner service, as well as menu planning and functions (corporate and weddings), stock taking, stock orders and deliveries.
At Singita, my day consisted of providing hot and cold and pastry sections at Boma's and Airstrip functions, and helping with menu planning, bush breakfasts and lunch buffets. I assisted executive head chef Gary Coetzee wherever I was needed, which demanded great flexibility as the demands of the job were so varied. My main function was helping the kitchen work efficiently to produce food of the highest quality.
In the Seychelles, my duties included the cold kitchen/starters; lunch/dinner preparation and service, as well as supervising the breakfast team and the prep and service of barbeques at various venues. I was introduced to a diverse range of Creole food, featuring fresh fish, tropical fruits and vegetables. The island is currently aiming to achieve a Michelin star.
Your day as a chef at a resort usually lasts 12 hours or more, and you don't really get a break to speak of.
What Would You Say to Those Interested in Being a Resort Chef?
I would say that you have to really love cooking. You work really long hours and get poor pay, unless you are the head chef. I personally enjoyed the daily change of the menu, thinking on ones feet, the camaraderie of the kitchen staff, and the "all for on and one for all" attitude. I suppose it all depends on the resort you work for, but it is generally a lot of tiring, hard work, and you are kind of treated like slave labor. On the flip side you are able to work with great individuals who are usually there for the food and the experience. I personally would do it again – but then again, I am a sucker for punishment. I cook because I love it. For me, food is a celebration of life and my greatest satisfaction comes from sharing the simple pleasure of eating.