Cooking at Resorts and Spas
Resorts demand the best out of all their employees, but even more so when it comes to the 5 star meals that they advertise.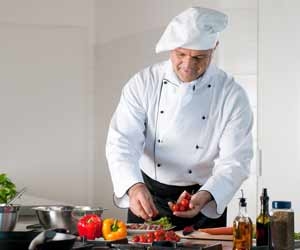 As the head gourmet chef it is your responsibility to create brilliant food to match the brilliant service that guests receive and that they have come to expect from a luxury hotel or resort. Guests want to have the dining experience of their lives when they come on vacation, and it is your job to give this to them.
Gourmet chefs can range from the head or executive chef of the kitchen down to the assistant chefs and kitchen staff. All these people working in a team make it possible to deliver divine cuisine to the guests at all times. Here are the main functioning parts of a gourmet kitchen:
Head Chef / Executive chef (who is also the expeditor)
Pastry Chef (sometimes they head their own kitchen)
Sous Chef
Chef de Partie
Commis Chef
Line cooks (which includes the Sauté chef, Fish chef, Fry chef, Grill chef, Roast chef, and the Pantry chef)
Each chef has a specific role in the kitchen and without them the kitchen would not run like a well oiled machine which is absolutely necessary for the first class service and high quality meals that need to be produced.
Job Responsibilities
There are various responsibilities for each type of gourmet chef in a resort or hotel kitchen, which are detailed as follows:
Head Chef: The head chef is responsible for the running of the kitchen. He or she comes up with the menu, teaches it to the sous chef and commands the kitchen during service, sometimes taking on the expediting duties as well. It is the head chef who is in charge of the kitchen and who makes all the final decisions about food that is ready to go out. The head chef also has additional responsibilities such as ordering stock, check the equipment and contents of the kitchen, making sure that the budget is being adhered to and other administrative duties.
Pastry Chef: The pastry chef is often in control of their own section of the kitchen and creates all the desserts and pastries for the menu, as well as baking bread or cakes if required. The pastry chef will still answer to the head or executive chef, although they sometimes have their own brigade of pastry chefs to run.
Sous Chef: The sous chef is second in command and provides assistance to the head chef as far as working in the kitchen goes. They are on hand to relay messages to all the stations of the kitchen on behalf of the head chef and also help with inventory, kitchen preparation and orders. The sous chef will generally assign other chefs to their specific stations and check to ensure the food is being prepared according to the head chef's standards. They will usually plate the food given to them by each line cook before being sent to the head chef for inspection.
Chef de Partie: The chef de partie job can be undertaken by more than one person, as this job entails heading up a station in the kitchen such as a meat station or vegetable station. In smaller establishments, the chef de partie oversees all the stations, and makes sure that each line cook is doing their job correctly. They also maintain the station's cleanliness and offer assistance when needed to any line cook. In other small establishments the chef de partie is the only cook at each station, so in essence you are the line cook.
Line Cooks: There are various line cooks that work the stations of a kitchen ranging from the meat station, grill station, fish station, vegetable station, hot appetizer station, cold starters station, and more. Each line cook will be responsible for preparing that particular type of food for the meals that go out and it is their task to communicate effectively with each other to ensure that all the food comes to the pass together, well cooked and in good time.
Commis Chef: This is the trainee or apprentice chef who is studying under the chef de partie. This chef will normally be a culinary school graduate or still a student.
Job Requirements
To be a chef you will need to have intricate knowledge of different types of cuisine from all over the world and have an excellent palate. You must be skilled at cooking and have mastered various cooking styles. You must also be an excellent communicator and work well in a team.
All chefs must possess the ability to work well under pressure and multitask, as you will have to create multiple dishes, cook at multiple stages and perform at high speed to ensure that food goes out to guests in good time.
You will be required to work about 40 to 45 hours a week and you will normally get 2 days off per week, although you will work long shifts sometimes longer than 12 hours at a time.
All chefs are required to have attended culinary school in order to work in a luxury resort or hotel gourmet kitchen, which you can learn more about on the Chef Training page.
Did You Know? Sometimes the sous chef is also known as the chef de partie, with the position of chef de partie being called demi chef de partie.
Salary & Benefits
Each chef earns a different salary depending on his or her role in the kitchen. As a head chef you can earn between $4,300 and $5,200 per month. As a sous chef you can earn between $3,500 and $4,100 per month. The chef de partie earns around the same, with the line cooks earning between $1,400 and $1,900 per month depending on their experience and the stations that they run. The pastry chef will earn about $2,800 per month.
At some resorts the head chef or executive chef can earn in excess of $100,000 per year, with the sous chef making between $60,000 and $80,000 per year, and the chef de partie earning somewhere between $35,000 and $70,000 annually.
Quick Summary:
Work in a fast paced, team environment.
Work your way up a hierarchy of chefs.
Earn up to 100K as an executive chef.