Training to be a Chef
A love of food and the talent to create sumptuous meals is not the only thing you will require if you want to be a great chef and work at some of the best resorts and hotels in the world. You will need to have a certain level of experience through apprenticing at a hotel and you need to have trained at a reputable and accredited culinary school. Training at a culinary arts college will see you earn a degree such as a Bachelor of Arts or Associate degree. At a culinary school you will not get a degree as such, but rather a certificate.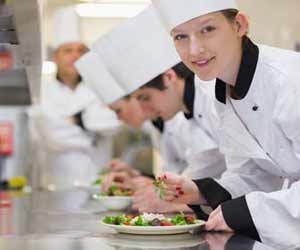 Where to Train
There are various culinary schools and colleges all over the world where you can train if you want to be a chef. You can look at these various institutions for advice and lists of the best colleges to attend.
International Association of Culinary Professionals (IACP)
National Restaurant Association (NRA)
American Culinary Federation (ACF)
American Personal and Private Chef Association
Some of the most well known culinary schools include the Lincoln Culinary Institute, where you can study at various campuses earning your diploma or associate degree, Le Cordon Bleu, where culinary arts and training has been perfected for over 100 years, The International Culinary School, which has many campuses to choose from depending on where you stay. The Culinary Institute of America is another well known chef training facility where they have their own restaurant that the students use to practice in. The top rated culinary school is the California Culinary Academy, with other top programs including Kendall College, Orlando Culinary Academy, Scottsdale Culinary Institute, and York Technical Institute.
Aside from the training you receive at a culinary college, many resort and hotel jobs require you to have a chef certification such as a CMC (Certified Master Chef) if you wanted to work as a head chef in a resort kitchen. The certification makes you stand out from the rest and lets employers know that you have been educated in the best hygiene and cooking techniques in the country.
Aside from the degrees required to become a head chef or sous chef, there are also levels that you can get which will start you off with assistant positions including patisserie specialist which requires you to have an NVQ Level 3 Diploma.
You can find information about apprenticeships from the National Apprenticeship Training Program for Cooks and the Canadian Federation of Chefs and Cooks.
Did You Know? Short courses are a great way to boost your culinary knowledge and give you more hands on managerial skills.
Length of Training
Training to be a chef is a fairly lengthy process depending on the level of education you want to achieve and whether you are satisfied with attaining a diploma or want to study further to get an associate's degree. A typical diploma at a vocational culinary arts school takes about a year, and this provides you with the necessary skills to get an entry level job. Each of the NVQ levels also takes about a year to complete.
If you want to pursue a Bachelor degree, this takes about 4 years of intensive training with an associate's degree adding an extra 2 years of study, and masters degrees taking an additional year each on top of that.
Chef Training Requirements
There are various requirements that you will need if you want to become a chef at a resort or hotel. Firstly you will be responsible for preparing lots of meals at the same time, therefore a cool head and working calmly under pressure is imperative.
The training comes in two forms. Firstly you will need to learn practical elements of cooking and learn specific techniques that you will use in your every day work environment. You will learn about ingredients and how to combine them. One requirement to attend cooking school is that you are an excellent cook already and have some imagination when it comes to cooking. You must have the passion for cooking which is probably the most important aspect to consider.
Other requirements for studying the culinary arts include your high school certificate or GED. Some colleges might ask about any cooking or culinary conferences you have attended and might also want to test you on how well you read a recipe and if you understand weights and measurements. Sometimes work experience in a kitchen as an assistant cook is required from the more exclusive culinary institutions. Most culinary schools and colleges will ask you to submit an essay for their review.
Quick Summary:
Chef training takes between 1 and 7 years depending on the level of education.
Culinary training comes in the form of a certificate or formal degree.
You must have a passion for cooking.