Tennis Instructor Job Issues
Working as a tennis instructor at a resort or hotel seems like the dream career, but there are some issues that you should be aware of before you start looking for a resort job.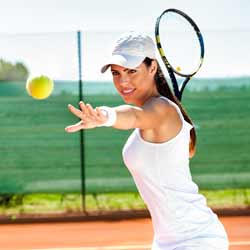 Certain additional responsibilities will be given to you and you will find that you do more than just teach tennis. Although it is still an ideal lifestyle, there are times when you might find certain elements of working at a resort annoying or difficult.
One of the things that is important to remember is that when you are just starting out it can hard to make a lot of money from clients alone, and at many resorts you are paid according to the number of lessons you book. It is sometimes better to work under a pro instructor just so you can get more experience while you build up your client list.
What is Expected of a Tennis Instructor at a Resort
Working at a resort, you are expected to not only instruct, but you will have to work in the shop hiring, selling equipment and restringing racquets. You will also need to look after the courts and facilities ensuring that they are all up to scratch for the resort guests.
At the larger resorts you can work as the tennis director and this job means that you will have even more responsibility organizing the courts, planning the schedules, coordinating with events teams when it comes to tournaments.
You are expected to make a connection with people, be friendly and welcoming, but this is also difficult because you only have a short time to work with them and make an impact as most people are just on vacation for a week or two. As one tennis instructor says, "The resort tennis players are only with you temporarily, so this can be a bit frustrating, especially when you are just starting to get good results and see them grow."
Challenges of Being a Resort Tennis Instructor
One of the main challenges of being a tennis instructor is that you will have to work odd times and hours. Some resorts have their tennis courts open for night lessons and games, which you will have to be there for.
You will also need to work during holidays like Christmas, New Year, Easter and others when most other people are on vacation. Aside from the odd schedule, you will also have to get used to the pay. You will not get paid when you don't work and you lose money when clients cancel, so you have to be a good salesperson and really ensure that your clients keep coming back to you for lessons.
Another challenge is that you will have limited time with your students, and you will have to get used to not getting the quality one-on-one time that you might prefer to have.
Quick Summary:
Resort tennis instructors can have long and odd hours.
A challenge is that you will only have limited time to spend with your students.
You will be expected to work in the shop and look after the facilities as part of the job.