Resort Retail & Rental Shop Jobs
Most hotels and resorts have an onsite retail store or gift shop to provide visitors with postcards, phone cards, memorabilia and other small merchandise items like cigarettes, chewing gum, sun screen, cold drinks and snacks that will make their stay more pleasant.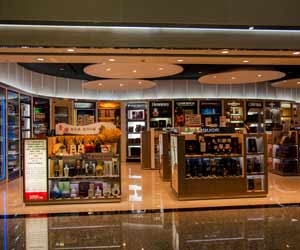 Rental shops on the premises are there to provide rental equipment to guests for the various facilities on the resort such as gold clubs and carts for the golf course, racquets and balls for the tennis courts, SCUBA diving, fishing and snorkeling equipment for water activities and more. Even clothing like sweatshirts, golf shirts, bathing costumes and sarongs are sold.
These rental stores can be located at the resort or down at the beach if the resort has its own private section for guests. Each rental store or retail outlet has someone that runs the shop and who operates the store front for the manager. At smaller resorts, this is usually the same person, but many times, there will be a few staff members to run the shop in shifts and then a retail manager to oversee everything, provide the stock, order stock, do stock and inventory checks, cashiering, hire staff, and who will make sure that the shop is running smoothly. Some of the larger resort groups also hire a Director of Retail to run all the resorts and shops in the resort. To work in the retail section of the hotel means that you will have to demonstrate excellent sales technique and provide top customer service skills.
Quick Fact: Growth in the retail sector is expected to be higher than any other industry going into 2020 due to the high turnover of staff and the increased, ever expanding retail outlets around the world.
Job Responsibilities
To work at any of the resort shops you will need to know about the items for sale, how much they cost, what guests must do to purchase or rent something and give them advice about purchases or equipment for hire. It is preferable that rental store clerks are familiar with the equipment they are hiring out, whether they have worked with it before, or participate regularly in that particular activity. For example, helping someone to fit a pair of ice skates or skis is easier if you are an ice skater or skier yourself, or have at least helped people fit them before.
Aside from being responsible for the merchandise, you will also be responsible for the safety of the users, when it comes to the rental equipment. You must ensure that guests will use the equipment correctly and ensure that all the safety talks and information have been given to them.
Job Requirements
You must be responsible and organized with knowledge of sales and basic math to handle the cashing up of the register and dealing with money on a daily basis. You should have the ability to speak clearly and easily to customers and encourage them to purchase the products for sale in a positive and friendly manner without being over bearing.
You need to have strong interpersonal skills and be able to work well under pressure, as well as prioritize well and have good business ethics. You must be professional, well mannered, well groomed, and proficient in various systems including PowerPoint, Word, Excel Spreadsheets and various other internal resort systems. You have to be energetic, enthusiastic and confident.
You will be required to work on your own most of the time, so you must be responsible and mature, being able to handle everything on your own without support or assistance. You might have to open the shop, check the equipment or products, man the front desk, fill and empty the cash register and close up after you.
Training & Degrees
Training is usually provided on the job for retail positions, but previous retail experience is necessary if you are required to work on your own straight away.
You will usually shadow a member of staff at the beginning to get used to the systems and to familiarize yourself with the products. You will need to be good at learning and have a good memory to be able to remember all the products and equipment in stock, how much they cost, and how the payment systems work.
A degree in business management, retail, or sales is always useful and will help you to get higher paying work or managerial roles. Even if you start out working in one of the resort shops, a degree in sales will help you to generate more revenue for the business which is beneficial for you if your job pays any sort of sales commission, and when you want to be promoted.
For those working in the rental stores, training in safety, and in how to use specific equipment is essential. You will also need to provide some minor instruction to the guests when hiring out the equipment. You need to have knowledge of different brands and types of equipment and how to fit people correctly according to their skill level, age and size.
Salary & Benefits
Managers earn anywhere between $12 and $20 per hour with store front staff earning closer to minimum wage, with working hours ranging from 35 to 45 per week. Commission is often offered on sales of products and various discounts are offered as part of the resort employment including housing and meals.
General retail store personnel will earn around $9.50 per hour with rental store employee being paid a bit more at around $13-$15 per hour.
All staff will get benefits including dental, medical, accommodation, meals, discounts on resort facilities and other perks associated with the resort they are working for.
Quick Summary:
Retail and rental store workers do not require any qualifications or degrees.
You can earn between $8 and $20 depending on where you are located and your level of experience.
You must have a flair for sales and be an excellent communicator.