Interview with a Windsurfing Instructor
Jim M. works for a windsurfing retail shop in Oregon, and worked previously for various resorts as a windsurfing instructor for 5 years.
Where Did You Work?
I used to be a windsurfing instructor for Vela Travel Resorts and worked at their resorts in Venezuela, Mexico, and the Dominican Republic, which was amazing. The best part about my job was the lifestyle. It was like being on a permanent vacation – no phone, no bills to pay, and no one to answer to.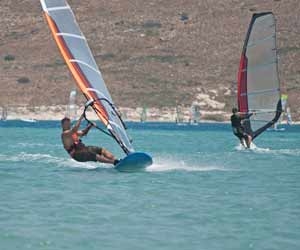 You get to escape from the real world and live in some of the most beautiful places in the world. It is a much more relaxed way of life.
The housing arrangements are a bit tough though. The resort will usually give you free housing, but this is shared with 5 other people, and one person is put in charge. I was the house manager and it is hard to balance living and working together – you don't get a lot of privacy. But I did learn about how to manage people, learnt about different cultures and how not to judge people. It is a real eye opener.
How Did You Get Into Windsurfing?
Well, getting into the resorts side of things was pretty easy for me, because I knew someone who got me the job – everything was arranged before I even left, but if you are trying to break in without knowing anyone, it can be quite hard. Most resorts companies prefer to get a recommendation from one of their current employees, so you really need to have lots of windsurfing instructor contacts. It is a fairly small industry, so it's more about who you know.
You don't make a huge amount of money – that is not the reason to do this kind of work, and if you are just looking for a quick pay day then you have the wrong career. When the opportunities do come up you should be prepared to stick it out for a few years.
You do tend to be in one place for a long period of time, so if you are working on a small Caribbean island, you can tend to feel a bit claustrophobic after a while. You also don't necessarily do this kind of job if you want a permanent lifestyle. This is more transient in nature and most windsurfing instructors don't have homes or cars when they start out. If you work out the bugs after a year or so and decide you still enjoy it, then you can maybe get a place and a car.
Tell Us About Your Typical Day
My day consisted of taking people down to the beach and showing them how to windsurf, giving them a good time, but also checking equipment and giving safety talks. It was actually kind of funny to see people transform from being tightly wound and so stressed out into these mellow cats within a week. Kind of funny, but also quite sad in a way. They really enjoy themselves and never want to go back after windsurfing and enjoying the chilled atmosphere.
Free time consists of windsurfing myself, swimming, hanging out at the beach, or exploring. Some of the other instructors will party with the guests. I met my wife while working in the Dominican Republic and we used to take our time off together and visit all the sights on the little islands, go hiking, snorkeling, water skiing, or sailing. It was great – like getting paid to be on holiday.
What Would You Say to Those Interested in Being a Windsurfing Instructor?
I would say that if you love windsurfing and want to windsurf all year round while earning money, this is an ideal job for someone. The younger you are the easier it will be to fit in and you won't mind the communal lifestyle as much in the beginning. If you have a family and want to settle down there are ways of doing it, but it can be harder. I really miss it and might actually go back again with my wife if the opportunity arose.
It is a brilliant, relaxed, low stress career, so if you are able to do it, then don't hesitate.